Will Valerie and Barry say I do?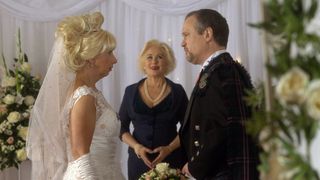 Ayesha's helping Valerie get ready for the wedding, when they're interrupted by a call from Valerie's consultant. Anthony arrives in time to help Ayesha coax Valerie from the kitchen and she explains that there'll be no more treatment - she's in remission! She's in shock and suggests that she call it off with Barry but Ayesha argues that Valerie has been so happy with Barry that the diagnosis shouldn't change that.
Barry checks his phone at the altar and nervously listens to a voicemail, only to learn that Valerie has the all-clear. He announces it to the room and everyone is thrilled!
Valerie walks down the aisle to Barry but, when she gets to the altar, she realises she can't go through with the wedding. She explains to Barry that she doesn't love him but thought she was going to die and wanted a wedding. She felt she deserved one but he doesn't deserve this, all she can do is apologise. Valerie leaves in tears and Barry walks out alone.
Get the latest updates, reviews and unmissable series to watch and more!
Thank you for signing up to Whattowatch. You will receive a verification email shortly.
There was a problem. Please refresh the page and try again.