Xanthe's dress is ruined at the formal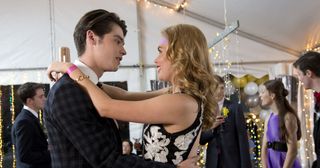 Piper throws a drink over Xanthe's dress
It's the night of the Erinsborough School Formal but Brad and Terese stop Piper going when Terese overhears her plan to 'go all the way' with Tyler. Later, Piper's incensed to find Tyler in the bar talking to a hot woman – and throws a drink over her, drenching Xanthe's $600 dress in the process. After Tyler tells her they're over, Piper's dragged to the Kennedy house to apologise for her actions. So imagine her shock when she learns Tyler's companion is Susan's niece, Elly Conway… and Piper's new English teacher.
Meanwhile, Xanthe gutted that her dress is ruined – she's meant to be returning it tomorrow! However, that pales in to insignificance when Ben kisses her and Madison snaps the moment forever.
Elly makes her entrance with a flirtatious moment with Mark Brennan, while Susan promises Brad she will introduce him to the new English teacher. The night goes awry when Piper douses Elly in drink – but this doesn't stop her from making a pass at the Tyler… Seems this girl has come to town to find a man as well as to teach.
Get the latest updates, reviews and unmissable series to watch and more!
Thank you for signing up to Whattowatch. You will receive a verification email shortly.
There was a problem. Please refresh the page and try again.