Yasmine Maalik humiliates Lily!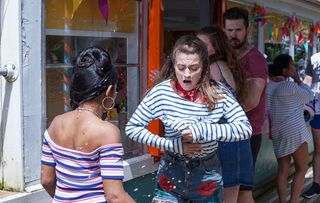 Jealous Yasmine Maalik shames her love rival in public...
Yasmine Maalik is devastated when Prince chooses Lily over her and pours a box of Alfie's crickets down Lily's top. Lily is mortified when she rips off her sweater and her scar is exposed to everyone. Back at home, Lily locks herself in the bathroom and cuts herself for the first time.
Meanwhile, Harry finds out that Ste's refusing to take his HIV medication in prison. Harry turns up to look after Leah and Lucas – but Ryan and Tegan can smell alcohol on him. As Tegan babysits instead, Lucas makes a shock revelation about the night Amy died…
Also, Scott gets himself a job working with his secret brother, Damon. And Misbah pleads with Kim to break up with Farrah – but will she listen?
Get the latest updates, reviews and unmissable series to watch and more!
Thank you for signing up to Whattowatch. You will receive a verification email shortly.
There was a problem. Please refresh the page and try again.