Call the Midwife's Helen George on shock events that threaten Trixie and Matthew's wedding
Call the Midwife — Helen George and Olly Rix reveal all about the big wedding drama in the season finale.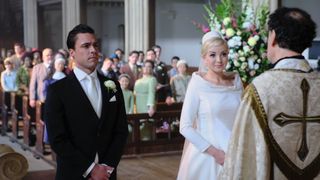 (Image credit: Neal Street Productions / BBC )
Call the Midwife pulls out all the stops this week for its epic UK season finale, which sees nurse Trixie Franklin finally get ready to tie the knot with suave Sir Matthew Aylward.
The couple, played by Helen George and Olly Rix, have been planning their nuptials for months, but, as the big day gets closer — in the last episode of Call the Midwife season 12 airing on Sunday, February 26 at 8 pm on BBC One — they are beset by a series of last-minute glitches. Can the team at Nonnatus House help them make it down the aisle?
With more seasons of Call the Midwife already commissioned, What To Watch caught up with Helen George and Olly Rix to find out more about the much-anticipated wedding…
Call the Midwife always has a big season finale and this looks set to be the best yet! Are Trixie and Matthew feeling nervous?
Helen George: "There's been a lot of build up and pressure. The family that Trixie is marrying into has wealth and titles, so there's an expectation of how the wedding's going to be. It's a challenging time for both of them."
Olly Rix: "And Matthew has just gone through grief [after losing his father] so when he loses his cool and has some temper tantrums, that is about much deeper, bigger things. But Trixie is the woman who he wants to be with."
Lots of things go wrong though and Trixie is quite upset when she can't wear the Aylward family tiara…
Helen George: "Yes, she gets a bit Bridezilla! She is obsessed with wearing this tiara. But she ends up with something more meaningful that works out for the best. What's lovely is that the community at Nonnatus House comes together and helps one of their own."
Olly Rix: "And Matthew's not fussed, he just wants Trixie, he'd marry her anywhere and she could wear a sack!"
Trixie's brother Geoffrey, played by Coronation Street's Christopher Harper, also turns up to give her away. Is it nice for her to have him around?
Helen George: "He's a scream! And Chris is so much fun and a lovely addition, so we all hope he comes back. It's important for Trixie to have someone there from her past for support."
Did you have any say in what kind of dress Trixie would wear?
Helen George: "Yes, the dress is important to Trixie, who I've lived with for over 10 years now, so it's also important to me to get it right for her. Poor Olly had to deal with me ranting about the dress on a daily basis!"
And what was it like filming the wedding?
Olly Rix: "I made sure that I didn't see Helen beforehand! I had no idea what the dress was going to look like and then she came from the back of the church and walked down the aisle and that was heart-stopping."
Helen George: "Yes, there was a real sense of occasion. I remember walking up the aisle and it took my breath away because there were people like Sister Julienne [Jenny Agutter] and Fred [Cliff Parisi] and all these incredible cast members that I've been with for years, so it was a genuinely emotional experience for me."
Do fans seem pleased that Trixie and Matthew are getting married?
Helen George: "I definitely get a sense of relief that finally she's sorting herself out. Everybody is loving the fact that they are getting married. They say, 'Please say nothing goes wrong and that he's not going to be killed on the way to the wedding!'"
Olly Rix: "Yes, they're protective of Trixie. I had people warning me, 'Don't break her heart!' But I've proved I'm going to stick around, so things have softened and now I get well wishes, which is sweet. Also, because of who he is, there's a Prince Charming, fairy tale ending for Trixie too, which is a nice reward for a character who the nation has loved for 12 series. Viewers can see her get a real 'Princess' wedding. That's special."
The season finale of Call the Midwife airs in the UK on Sunday, February 26 at 8pm on BBC One. In the US, the season will premiere on Sunday, March 19 on PBS with new episodes being released each following Sunday at 8/7c until June 6.
Get the What to Watch Newsletter
The latest updates, reviews and unmissable series to watch and more!
Caren has been a journalist specializing in TV for almost two decades and is a Senior Features Writer for TV Times, TV & Satellite Week and What's On TV magazines and she also writes for What to Watch.
Over the years, she has spent many a day in a muddy field or an on-set catering bus chatting to numerous stars on location including the likes of Olivia Colman, David Tennant, Suranne Jones, Jamie Dornan, Dame Judi Dench and Sir Derek Jacobi as well as Hollywood actors such as Glenn Close and Kiefer Sutherland.
Caren will happily sit down and watch any kind of telly (well, maybe not sci-fi!), but she particularly loves period dramas like Call the Midwife, Downton Abbey and The Crown and she's also a big fan of juicy crime thrillers from Line of Duty to Poirot.
In her spare time, Caren enjoys going to the cinema and theatre or curling up with a good book.