EXCLUSIVE: Fred's Last Resort star Fred Sirieix reveals the behind-the-scenes secrets
Fred Sirieix on Fred's Last Resort and taking his passion for his profession to the next level in E4's new reality series.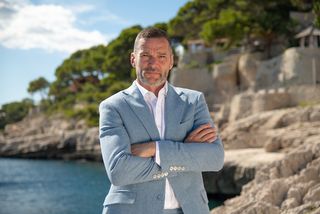 (Image credit: Channel 4)
Fred Sirieix means business in Fred's Last Resort season 1.
In E4's new eight-part reality series the award-winning maître d' takes 12 twentysomethings to the five-star Les Roches Blanches Hotel in the South of France.
Motivated by the industry's recruitment crisis and his lifelong passion for service par excellence, Fred aims to train the British contestants — including a boxer, farmer, bar worker and content creator — in the art of high-end hotel service. They're competing for a life-changing job and £10,000, but those who don't make the grade are smartly sent packing.
There's also another side to the series. After their shift ends, the rookies relax in their staff accommodation at a local caravan park and, away from Fred's watchful eye, there's late-night boozing, bunk-ups, tears and tantrums!
Here in an exclusive interview, Fred tells What to Watch why filming Fred's Last Resort was as testing for him as it was for his young charges…
Fred's Last Resort — an interview with Fred Sirieix
Fred's Last Resort sounds like a rollercoaster. Why did you want to make it?
"It's the one show I am a bit nervous about because it's very personal to me; it's something that I wanted to do for a long time to showcase the industry.
"It's about taking 12 people on a journey — a journey that I've taken; I did my training in Monte Carlo in the south of France. The beauty of Last Resort is that you've got the serious, professional side — it's not me going into a crazy show like Gordon, Gino and Fred, it's very, very different. And then you've got the other side of these kids — it's the summer season, they are in their 20s and they want to have fun. There's a generational gap between me and them and the stuff that they do."
What were your first impressions of your recruits?
"I was outside waiting with the staff of the hotel when they arrived. They were screaming because they were so excited. They knew they were entering a competition so you're just wondering 'Where is your mind at?!'
"It's a competition with one winner, but all of them are being pushed. They are doing things that they've never done before. It's a revelation for them and it's an eye-opener into their lives. It's a professional and personal journey for them. They all have their own issues and they all have their own reasons for why they are there."
They're tasked with a variety of challenges, what can we expect?
INFO: In the first episode Fred asks the competitors to run a VIP lunch and a lavish birthday party. Later challenges include organising a top designer's fashion show, wine and oyster tasting, fine-dining events, planning a doggy photoshoot, serving VIP's on a superyacht and providing personal one-to-one service on excursions outside the hotel.
"The first lunch was quite telling; that was fun, I really enjoyed it!
"The birthday party in the villa was quite simple, but they didn't take it as seriously as they should have. For example, on the buffet, all they had were pineapples and they didn't even cut them; they didn't even think about it. Even when I told them, nobody got into gear.
"The fashion show was great because it was a real designer who was showcasing his collection. The two teams, the hospitality team and the back of house team, had to work together to deliver that show and, oh, my god, it was incredible.
"The other one that we did was a photoshoot for a dog calendar. There were different photoshoots to organise throughout the hotel in different locations with different dogs and different owners. That was quite the event!"
Can you tease how they react to the challenges?
"It's interesting. For some of the kids, they've never left England or taken a plane. Then suddenly they arrive in France in a world they don't know. This five-star hotel is as luxurious as it gets, it's just heavenly. But nobody's taken by surprise, they're in a competition. I laid the rules and what I was expecting from the off, so everybody knew what they were embarking on — but it's one thing to know and another one to do it!"
How competitive are they?
"It gets more and more competitive as time goes on.
"To start with — you see this in the first two episodes — there are some people who were there… I don't know why they were there… But they were there and they tried but they realised it isn't for them.
"As we carried on [those remaining] saw people getting eliminated and that they were still in the running. Suddenly the realisation hits them that they could actually win this."
What are you judging them on?
"We judge on merit and performance. We were there for three weeks, so there was time to see people in work and out of work. You see the dedication and how much they want it."
How was the experience of making Last Resort for you?
"Well, I knew it was going to be difficult but I was confident because this is what I've done all my life. In hospitality, if you want to be good at your job, you've got to be a good teacher, because staff don't grow on trees and you have to employ people literally from the street and train them to the standard that you want."
Were there any particularly difficult moments during filming?
"The first episode when we did the birthday party was worse than what you see [on screen]. It was a hard day. Nothing was done, it was quite the shambles. And the shouting and screaming… but I had to deal with it. It's just the reality of working in restaurants and hotels. There was conflict and the only way to diffuse it was by being honest, but also very firm."
You're also incredibly caring during the series. Was that important too?
"You have to remember these people are young. I was young, I made mistakes, I was silly at times. I have to remember that, be forgiving, and see the big picture. I want to give them some of the teaching and the training I did not get when I was a younger man."
Finally, what is it you love about hospitality work?
"It's like being a general on a battlefield; you have to win. We're here to deliver — it's not an option to deliver a substandard experience. I put myself in the shoes of the customers and I promise that I'm going to deliver something amazing. It's an experience, it's the food, it's the service, the atmosphere, the whole thing, you know, the professionalism of our staff, everything.
"All the kids in Last Resort, even the ones who went out early, all learned about themselves and had a glimpse about a trade with skills that are transferable."
Season 1 of Fred's Last Resort airs at 9pm on Tuesdays and Wednesdays on E4 from 14 March 2023. Episodes are also available on All 4
Get the What to Watch Newsletter
The latest updates, reviews and unmissable series to watch and more!
Writer for TV Times, What's On TV, TV & Satellite Week and What To Watch
With twenty years of experience as an entertainment journalist, Elaine writes for What's on TV, TV Times, TV & Satellite Week and (opens in new tab)www.whattowatch.com (opens in new tab) covering a variety of programs from gardening and wildlife to documentaries and drama.
As well as active involvement in the WTW family's social media accounts, she has been known to get chatty on the red carpet and wander into the odd podcast.
After a day of previewing TV, writing about TV and interviewing TV stars, Elaine likes nothing than to relax… by watching TV.