Fred's Last Resort season 1 — contestants, filming locations and all we know
Fred's Last Resort season 1 sees First Dates star Fred Sirieix 'as we've never seen him before!'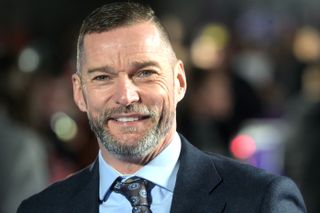 (Image credit: Getty)
In Fred's Last Resort season 1 Fred Sirieix expects uncompromising excellence as he attempts to train 12 raw recruits in the art of high-end hotel service.
Fred Sirieix is best known for his matchmaking skills on First Dates and lively adventures in Gordon, Gino and Fred's Road Trip, but there's another side to the French maître d' — his passion for providing excellent service.
In E4's new eight-part series Fred's Last Resort, Fred amalgamates his many talents while revealing his strictly professional side when he gives 12 young adults the career opportunity of a lifetime. The competition will reward hard work and professionalism, but there will only be one winner. And anyone that messes up will be given a one-way ticket out of the competition.
Here's everything you need to know about Fred's Last Resort…
Fred's Last Resort season 1 release date
Fred's Last Resort is an eight-part series, which debuts on E4 on Tuesday 14 March 2023 at 9pm. The second episode is on Wednesday 15 March 2023 at 9pm, with new instalments on subsequent Tuesdays and Wednesdays at the same time. Episodes will also be available on All 4.
Is there a trailer for Fred's Last Resort?
Yes! Fred Sirieix has posted it on his twitter account. Check it out!
This. Is. It. #FredsLastResort coming soon @E4Tweets and ALL4 @Channel4 pic.twitter.com/lOQ0I4nWIhFebruary 26, 2023
The premise of Fred's Last Resort
According to the press release, Fred's Last Resort will be a rollercoaster ride for the recruits — and for Fred!
"A glamourous, luxury hotel in Southern France paired with endless sunshine sounds like a luxury break for most people — but not if Fred Sirieix has anything to do with it. Far from playing Cupid, we're about to see a side of Fred we've never seen before, as he takes on his biggest challenge yet.
"Giving back to the industry in which he made his name, and which almost buckled under the weight of a global pandemic, Fred's Last Resort, we will see our favorite French maître d, recruit young people at a crossroads in their lives and throw them into a life-changing, highly demanding role in the exacting world of luxury, high-end hotel hospitality."
Fred's Last Resort season 1 contestants
The 12 contestants vying for a year-long prestigious work placement and £10,000 cash prize are a lively and diverse bunch.
The press release hints at what viewers can expect: "Our new recruits will have to lose the lounge wear and smarten up their appearance and attitude, as there is a challenging road ahead."
Who's who in Fred's Last Resort
Lacey, 26, an event organiser from Hertfordshire
Heather, 23, a takeaway delivery courier from Brighton
Sammi, 23, a barista from Manchester
Francesca, 20, a retail assistant from London
Orlagh, 21, a pizza waitress from Cheshire
Mollie, 21, a supermarket cashier from Bristol
Tom, 21, a farmer from Wiltshire
Dippy, 18, a student from Cardiff
Jackson, 27, a boxer from Blackpool
Lance, 24, a content creator from Luton
Levi, 19, a social media manager from Rotherham
Pawel, 22, a barman from Manchester
Challenges facing the contestants in Fred's Last Resort
Fred will be putting the participants through their paces with a number of industry-focused responsibilities from housekeeping to hosting.
The press release indicated that there will be no easy tasks, mentioning 'demanding clientele' and 'strict rules'...
"Following strict rules and tackling all types of challenges, it's up to Fred and his recruits not to disappoint, but will Fred be able wrangle his unruly recruits into keeping the hotel experience up to his high standards?"
The elimination process in Fred's Last Resort
Expect tears, tantrums and surprise reactions when contestants are asked to leave the series.
"If any of the staff don't step up to the plate, Fred won't hesitate to say 'au revoir!'"
The winner of Fred's Last Resort season 1
The person who makes it to the end wins a life-changing career opportunity.
Speaking about the series Fred Sirieix says: "The hospitality industry changed my life when I was just 20. It taught me the skills for success. Last Resort promises to not only be a dramatic and fun filled series, but it will also give our young contestants an insight into the world of high-end hotel management whilst developing valuable and transferable skills in hospitality. It's an opportunity that could change their lives, as it did mine."
The press release says: "If the recruits make it through the season, they will not only have learned some very exclusive, new transferrable skills to help them succeed in life, but one of them will also receive a life-changing role, a sought-after internship at a top tier hospitality group."
Where was Fred's Last Resort season 1 filmed?
The first series of Fred's Last Resort was filmed during the 2022 Summer season in the South of France. We spoke to Fred Sirieix and learned more about filming the series.
E4 told us: "Located in a spectacular hotel on the French Riviera, the area where Fred himself trained as a youngster, the team will welcome demanding clientele from across the globe who will expect nothing less than premium service."
With numerous projects on the go, Fred is busier than a busboy on Mother's Day at the moment! Could the below Tweet be a snippet from his time filming Fred's Last Resort, or is it from one of his many other projects?
Fred's Last Resort season 1 episode guide
Fred's Last Resort Season 1 — Episode 1
E4: "The competition begins as the excitable youngsters arrive at Les Roches Blanches with sun, sea and... more on their minds. But before they've had chance to unpack their suitcases, Fred immediately sends the recruits off on a whistle-stop tour of the resort to introduce them to the mountain of jobs they'll be undertaking over the summer. After serving a gourmet meal to 30 VIPs, Fred's fledglings must throw an opulent birthday party, sourcing the food and drinks themselves in the local town. Twelve young Brits sampling luxury beverages in the sun on the French Riviera - what could possibly go wrong?"
WTW: Lesson one: Don't call Fred 'bruv'. Entertaining and eye opening.
Fred's Last Resort Season 1 — Episode 2
E4: "After a late night of drinking games and bedroom swapping, Fred sends his young hopefuls to Provence to learn about some of the hotel's top-end suppliers. Alas, there's no such thing as a free meal (or drink) - the recruits must use what they've learned to organise an evening of fine dining that showcases the wine from one of the region's best vineyards and the oysters from some award-winning local fishermen. As dozens of guests descend upon the hotel, the food and wine suppliers join Fred to assess the group's skills. It's a high-pressure situation. So it'd be a really inconvenient time for a load of glasses and shellfish to come crashing to the floor... Could it be home time for any of the recruits?"
WTW: Lesson two: Drinking on the job is a risk in business!
Fred's Last Resort Season 1 — Episode 3
E4: "Fred's recruits are called down to the hotel's pétanque court, where they're tasked with transforming the area into an events space for one of the region's leading fashion designers. With a complicated schedule to follow - including serving drinks and canapés at very specific times during the show - can the young Brits lay on a fantastic fashion extravaganza that ensures all the focus stays on the models on the catwalk? Anyone who's responsible for any mishaps could be strutting onto the first flight home."
WTW: While the front-of-house team are smashing it (literally - glass everywhere), will the backstage crew exhibit model behaviour?
Fred's Last Resort Season 1 — Episode 4
E4: "It's sun, sea and service for Fred's recruits as they organise personalised luxury excursions for VIP guests on the French Riviera. With a language barrier and time constraints to navigate, they must lay on special activities specifically suited to their guests' needs. So will a fishing trip, a landscape art class and a cookery course hit the mark? They might, providing the latter doesn't descend into a food fight..."
WTW: Bespoke luxury excursions for guests don't go to plan - primarily because there isn't a plan...
Fred's Last Resort Season 1 — Episode 5
E4: "Fred's remaining recruits' organisational skills are tested to the max as a group of unusual VIPs descend upon the hotel for a photoshoot for a luxury dog fashion brand. With some highly unpredictable four-legged supermodels on their hands - as well as some rather demanding owners - how will the young Brits cope with ensuring everyone's in the right place at the right time?"
WTW: Fred lets the candidates off the leash for a canine calendar photoshoot that they can really get their teeth into. Will it be complete dog's dinner?
As Fred told us in a recent interview: "That was quite the event!"
Fred's Last Resort Season 1 — Episode 6
E4: "The recruits are all at sea as Fred sends them aboard a superyacht to deliver a fine dining experience to a group of very discerning guests. It's a glorious Mediterranean adventure - or at least it's meant to be. But the last time the recruits served a three-course meal, on the first day of the competition, it was a complete disaster. So how will they cope with repeating the task on the waves of the Med? Fred's on deck keeping his eagle eye out to see who really deserves to stay in the competition - and who deserves to walk the plank..."
WTW: There are wobbles as the recruits sea legs are put to the test once again when they're tasked with delivering an intimate fine dining experience. At one point Fred is so unimpressed he declares it one of the worse services he's seen in his career. Fred, you ain't see nothing yet - next week is full of extraordinary new surprises...
More on Fred's Last Resort
Fred's Last Resort is co-produced by Betty TV and Canard, both part of Objective Media Group, and Motion Content Group. It is executive produced by Cam de la Huerta, David Harrison and Helen Cooke for Canard and Betty TV, and Martin Oxley for Motion. It was commissioned for E4 by Entertainment Commissioning Editor, Steven Handley and Head of Youth and Digital, Karl Warner. The series will be distributed by All3Media International.
Check back for updates!
Get the What to Watch Newsletter
The latest updates, reviews and unmissable series to watch and more!
Writer for TV Times, What's On TV, TV & Satellite Week and What To Watch
With twenty years of experience as an entertainment journalist, Elaine writes for What's on TV, TV Times, TV & Satellite Week and (opens in new tab)www.whattowatch.com (opens in new tab) covering a variety of programs from gardening and wildlife to documentaries and drama.
As well as active involvement in the WTW family's social media accounts, she has been known to get chatty on the red carpet and wander into the odd podcast.
After a day of previewing TV, writing about TV and interviewing TV stars, Elaine likes nothing than to relax… by watching TV.