Gethin Jones on his Red Nose Day Keep Dancing challenge: "I'll be doing the slowest dances possible!"
Gethin Jones will be dancing for 24 hours to raise money for Comic Relief.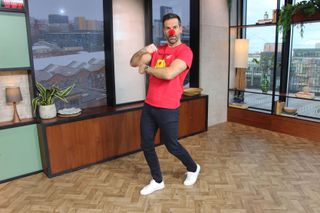 (Image credit: BBC/Comic Relief)
Morning Live host Gethin Jones will be putting his best foot forward this year for Comic Relief 2023, as he undertakes a 24-hour Keep Dancing challenge!
Inspired by the show's hugely popular Strictly Fitness segment, Gethin will spend a full 24 hours showing off his moves to raise money for worthy causes this Red Nose Day, starting during Morning Live on Thursday, March 16 and continuing right through until Friday morning. Over the course of his challenge, he'll be joined by friends from the Strictly Come Dancing family to take their turn on the dancefloor, and you can follow his progress throughout the day (and night) on BBC iPlayer.
We caught up with Gethin to find out how his training is going...
Gethin Jones interview for Red Nose Day 2023
How did you feel when you were asked to do this challenge?
"Initially, I was like 'oh my God, that sounds like great fun!' — Strictly Fitness has become a really popular part of our show, at the end of each day we do our little minute. But it's funny, sometimes I get message from viewers saying 'Geth, you look quite tired after a minute of Strictly — I thought you were quite a fit guy?'. You do sometimes get a bit breathless doing it, and I thought, 'my God — 24 hours!' So I think initially I was really excited, and now there's a little bit of trepidation. I had an ankle operation recently, so there's a huge element of challenge to it now for sure!"
Let's get the important question out of the way: how will it work? Do you get toilet breaks?
"Scott Mills and Owain Evans were on the show a couple of weeks ago — Owain did his drumming challenge [in 2021] and Scott did his treadmill challenge last year, and as you can imagine, when we were having a brief about what we were going to ask them, top of my list was 'when do you go to the toilet, lads?' And both of them immediately went 'ah! It's funny you should mention that...' and came to life about how you get your toilet breaks in! So it's a very good question. There is, I think, every hour, an opportunity to use the facilities if you wish to, that's part of the rules.
"All I know after that is that there's going to be loads of Strictly faces — pros, judges, Tess and Claud are even going to be coming in to do a bit of dancing!"
What sort of dancing will you be doing?
"I can't imagine I'll be doing any lifts! I'll be trying to mainly do the waltz and the rumba — just the slowest dances possible!"
Have the Strictly team been giving you any pointers?
"Shirley Ballas has said to eat bananas for potassium. Janette [Manrara] has banned coffee. Nikita [Kuzmin] suggested three warm-up moves, Kai [Widdrington] was useless and just said keep going!
"I think what's going to be the hardest part of it is that if you're doing something where you can just be miserable, that's not so bad — but I've never seen a sad dancer! I was saying this to Janette the other day, she suggested that I do the tango between 3am and 4am because you can be angry and no one can tell. I thought that was a good call, I can do my tango face for an hour and pretend that I'm really happy inside!"
Has this reminded you of your own time on Strictly?
"You may not remember Strictly when I did it — it was in black-and-white back in 2007! I was a terrible dancer, I was only ever good in hold — the success of that show was Camilla [Dallerup, Gethin's professional partner] saying, 'stay in hold, don't even think about dancing on your own!'
"I'm not a natural dancer — I'm musical, I was brought up with music, but I'm not a natural dancer, so all my moves look the same, really. Shirley tells you that anyone can dance and that's what it's all about, so as long as I'm moving, she'll be happy!"
Have you regretted saying yes at any point? Or are you still happy to be doing it?
"I don't think I've ever signed up to anything to say 'no', ever since my Blue Peter days. I love the fact that my limitations are pushed, and for a 45-year-old I think I'm in decent shape and I look after myself, but without a doubt, this is a mental challenge. The music will probably keep me going to some degree, but I think the biggest challenge I've ever done physically was the Commando Yomp years ago, that was eight hours and that was horrific! I remember they advised you to have a bit of a database of thoughts — you spend an hour thinking about one person, maybe think about your family in the second hour, and maybe when I get into some kind of rhythm in the middle of the night, that'll be when the mental challenge comes in.
But I'll hopefully be jumping into Sara Cox's show on BBC Radio 2, and maybe OJ [Borg]'s show at midnight, he's a good mate of mine, and maybe just chat to him on air. We'll be on iPlayer for 24 hours, so anyone doing a bit of shift work, feel free to give us a shout-out and join in!"
Is it a big honour to be part of Red Nose Day?
"That was the biggest thing — as a child, growing up, and then as a BBC children's presenter, you understand the importance of Children In Need and Comic Relief in the BBC diary. Over the years, I have filmed with people who have benefitted from these charities, and that means a lot. My job on the day will be to try and bring that alive on air: to show what we're doing, where it's going, what it's for. With Comic Relief, the money goes to where it needs to go — that's all the motivation I need."
What are you going to do at 10am on Friday when it's all over?
"Ha, I know! What am I going to do? In my head, I feel like I might just be grabbing some food and maybe a cheeky beer, but the reality might be something very different. I tell you what I won't be doing, though — I won't be going out dancing!"
Strictly Fitness: Gethin Keeps Dancing For Red Nose Day begins during Morning Live on Thursday March 16 on BBC1 from 9.15am. You can follow Gethin's progress throughout the challenge on BBC iPlayer. To donate, visit the BBC's Red Nose Day

(opens in new tab)

page.
Get the What to Watch Newsletter
The latest updates, reviews and unmissable series to watch and more!
Staff Writer for TV & Satellite Week, TV Times, What's On TV and whattowatch.com
Steven Perkins is a Staff Writer for TV & Satellite Week, TV Times, What's On TV and whattowatch.com (opens in new tab), who has been writing about TV professionally since 2008. He was previously the TV Editor for Inside Soap before taking up his current role in 2020. He loves everything from gritty dramas to docusoaps about airports and thinks about the Eurovision Song Contest all year round.