How Tulsa King can become the next Sopranos
There's one big thing that Sylvester Stallone's Tulsa King needs to do.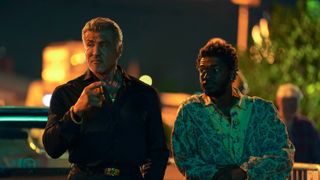 (Image credit: Brian Douglas/Paramount+)
NOTE: this post contains spoilers for Tulsa King season 1.
Sylvester Stallone probably doesn't have many regrets about his career. As the creator and star of the iconic Rocky series, the 76-year-old's place in Hollywood history is firmly secure. Though Stallone has been candid about one regret: he always wanted to star in The Sopranos, David Chase's seminal gangster series widely regarded as one of the best TV shows of all time.
Stallone's latest show, Tulsa King, in which he plays mob-capo Dwight Manfredi, who is banished to Oklahoma after 25 years in prison, is his own attempt at the gangster genre. It has strong links to The Sopranos, too. Terence Winter, who wrote or co-wrote 25 episodes of the HBO classic, is Tulsa King's showrunner, while Allen Coulter, who directed Tulsa King's opening two episodes, was behind the camera for 12 installments of The Sopranos.
There's no denying Tulsa King has been a huge success for Paramount Plus. It has drawn huge viewing figures for the company, so much so that it was renewed for a second season after just one episode.
But while audiences couldn't resist watching Stallone as a macho gangster intent on earning as much money as possible while keeping his friends and family safe, Tulsa King struggled to come anywhere close to reaching its potential.
Sure it had its moments. Its pilot was strong, the fight sequence at the end of episode 4 was enthralling to watch and the performances were top-notch. But it was too intent on making sure Dwight was both redeemable and likable.
This had never been more evident than the opening of the Tulsa King season 1 finale. A flashback to 1997 showed how Dwight ended up in prison because the show's defacto villains, Chickie (Domenick Lombardozzi) and Vince (Vincent Piazza), had handcuffed someone to a radiator in a burning house. Unable to break him free, Dwight shot the man, killing him instantly, to stop him from burning alive, only for the police to turn up and arrest him.
Giving Dwight this honorable back-story immediately brought to mind an argument that Chase had with HBO regarding "College," the fifth episode of The Sopranos' first season, which was ranked as the second greatest episode of television ever by TV Guide back in 2009.
In "College," Tony Soprano (James Gandolfini) and his daughter Meadow (Jamie-Lynn Sigler) are visiting potential colleges in Maine. Only for Tony to spot Febby Petrulio (Tony Ray Rossi), a former member of the Soprano crime family who entered the witness protection program after giving evidence to the FBI. Tony spends the episode hunting for Febby and ultimately kills him.
When HBO first read the script, they didn't want Tony to murder Febby. Especially since Chase had already done such a great job of making Tony sympathetic and likable in the opening episodes, even though he was a member of the mob. Chase insisted though that Tony had to kill Febby because he was a gangster. If he didn't, then viewers would immediately spot that the show was inauthentic, while they'd also believe Tony was a weak leader and had broken his own code.
Tulsa King shouldn't be afraid of making Dwight just as unlikable as Tony was. At the moment, every time Dwight has been violent, it's because he has been provoked. In order for Tulsa King to become more intriguing and thought-provoking, Dwight needs to become more complex and, arguably, less heroic. After all, he did give Stacy (Andrea Savage) $1 million in the finale.
The problem is, Stallone is unlikely to want to give Dwight such treatment. In an interview with The Hollywood Reporter (opens in new tab), Stallone even said he "wanted to play a unique gangster who is not like a gangster," before explaining that Dwight is "actually a guy who likes to cooperate." These are hardly elements typically suited to the gangster genre.
Those involved in Tulsa King are seemingly happy to give Stallone what he wants. Why else would the character Spencer, played by Stallone's daughter Scarlet Rose, have been shoe-horned into the show so brazenly, first as a waitress and then one of the people who cares for Dwight's prize horse.
Tulsa King's popularity will only give Stallone more power and control over the direction of the show. And judging by his previous career choices, he's much more likely to pick heroic and likable, than dark and complex. All of which paradoxically means that, while Stallone is really the only reason for Tulsa King's huge success, he may be destined to hold it back, too.
All of Tulsa King season 1 is now available to watch on Paramount Plus.
Get the latest updates, reviews and unmissable series to watch and more!
Born and raised in England but now based in Philadelphia, Gregory Wakeman has written for the BBC, New York Times, The Guardian, GQ, and Yahoo Movies UK, all while defiantly trying to keep his accent.
Thank you for signing up to Whattowatch. You will receive a verification email shortly.
There was a problem. Please refresh the page and try again.