Who was Rockhopper in 'The Masked Singer' UK?
Who was Rockhopper in 'The Masked Singer' UK? What star was beneath the quirky costume?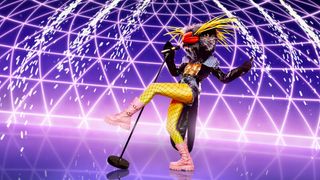 (Image credit: ITV)
Rockhopper waddled onto The Masked Singer UK season 3 stage and put on some show stopping performances that made her reach all the way to the semi final.
Fans at home claimed Rockhopper was Michelle Williams or Kelly Rowland from Destiny's Child after using roman numerals to 'unmask' the celebrity. But when the moment of truth came for the masked singer to be revealed, it turned out that they were completely right — it was Michelle Williams!
Did you guess right?! Let's take a look at some of the previous guesses people had over the last few weeks...
Nope, it wasn't me on @MaskedSingerUK!!! Ok, yes it was!!! I had a BLAST!!! #maskedsinger #rockhopper pic.twitter.com/VvvoTf3HthFebruary 5, 2022
Who is Rockhopper in 'The Masked Singer' UK? Songs...
Rockhopper sang Higher Love by Kygo feat. Whitney Houston in week one.
In week 2, Rockhopper performed Love Is A Losing Game by Amy Winehouse.
For week 3, Rockhopper sang Edge of Midnight by Miley Cyrus as her clue song.
Rockhopper rocked the stage with her rendition of We Don't Need Another Hero by Tina Turner in week 4.
Who is Rockhopper in 'The Masked Singer' UK? Verbal clues…
The hint we've been told for Rockhopper is: "Rockhopper will be making tweet music in a big to peng-win."
Focusing on the "tweet music" part of the clue and the fact that it's a Rockhopper penguin - could it be a rock singer or someone involved in the music industry? International music sensation Ozzy Osbourne could be the one hiding his identity beneath the wild yellow eyebrows. Or even his wife, music producer, and former The X Factor judge Sharon Osbourne! Maybe she could be seizing the singing reins from her husband this time around.
Or could even their daughter Kelly Osbourne be the one to storm The Masked Singer UK stage in the pink combat boots and fishnets? She's known for her many talents in singing, acting, and modeling, so it wouldn't be a surprise if she wanted to take on this challenge!
Who is Rockhopper in 'The Masked Singer' UK? Costume clues…
Although the costume isn't giving any obvious indication as to who it could be, we had a couple of ideas pop into our heads. One being much-loved TV presenter Kate Humble who has presented many wildlife shows over the years, including Springwatch, Autumnwatch and Countryfile. Talking about animals is her forte, but could being dressed as one while singing be her new talent?!
Another person who sprung to our minds was TV presenter Lorraine Kelly, who is a big penguin lover. So much so, that London Zoo even named a penguin after her!
In an interview on the Dundee website (opens in new tab), she revealed that she also has penguin statues at home.
"There are four penguin statues outside Discovery Point, one of the best visitor centers in Scotland, and the most romantic thing my husband's ever done was to ask the artist to make one for me. So an Emperor penguin now sits in my garden. It's the best present I've ever received, and by far the most unusual," she said.
Lorraine also presented a documentary called Penguin A&E with Lorraine Kelly where she travelled to Cape Town's busiest penguin hospital where they help over 1,500 penguins every year.
This would certainly be a fun way for Lorraine to demonstrate her love for penguins and could this subtle clue lead us to discover if it is really her under the mask?
Who is Rockhopper in 'The Masked Singer' UK? Show clues…
Opening their clue package with The Greatest Show by Panic! At The Disco, Rockhopper began their hints with: "Roll up, roll up. The circus has come to town, and I'm introducing to you…me, Rockhopper."
"Just call me the entertainer," Rockhopper continued, "because I am here to bring you a show." Jonathan Ross questioned if it was an American accent and Rita Ora pointed out the famous film The Greatest Showman.
Rockhopper then went on to say that: "Rockhopper penguins are known for their ability to jump." Davina McCall had an idea that this clue could have something to do with the TV series The Jump, which she presented. "So, hopefully, I'll bounce through this competition and dazzle you all. Tonight, I'm gonna put on the greatest show you've ever seen."
As Rockhopper sang, it seemed that the person under the costume could be a woman, especially since the judges went with women stars as their guesses.
"This penguin made headlines by being the first" was the final clue given to the audience and judges.
Week 2 show clues...
Rockhopper returned for week 2 to put on yet another show-stopping performance. As usual, the audience and judges had to listen to Rockhopper's clue package before she could storm the stage. "In my last performance, I came to show you what I can do. I lost out to Traffic Cone. But tonight, it's full speed ahead, and I can't wait to reach full throttle."
"Now, I've never been one to ruffle feathers, I'm not that kind of penguin," she said. We then got a glimpse of Rockhopper performing at a circus and Jonathan saying, "She's quite tall."
She continued, "Though don't mistake me, I'm no stranger to giving my opinion, and I'll gladly let you hear it. I love to talk, but I love to support, inspire and empower even more. A penguin's habitat can be a harsh environment." Mo Gilligan said that they could be someone with a famous podcast and Davina McCall agreed.
"The Arctic is a great white way, after all. So, if I can huddle and help my fellow penguins, then that's what I'm gonna do."
Rockhopper's two lies and a truth were up next with the first one being: "I'm a big fan of a weekend meal delivered in the evening." The next one was: "Sporting events are where I feel right at home," and finally, "Even though it's cold I still know how to slay."
Week 3 show clues...
For week 3, the masked celebrities were allowed to have a clue song, as well as a clue package to help the audience and judging panel guess who could be under the mask.
Rockhopper was the last masked singer to take to the stage. But, before we could watch her sing, she introduced her clue package with: "When it comes to guessing who I am, the panel still have absolutely 'snow' idea. I might be a penguin, but that doesn't mean things are always as black and white as they may seem." As she said this, she flipped over three picture cards in front of a crystal ball, one had a picture of William Shatner on, the second had William Shakespeare, and the last had Prince William. Davina McCall mentioned that it could a reference to the singer will.i.am.
"So, I'll confess, I've been another kind of feathered friend in the past. A jailbird." Rita Ora suggested that she could be an actress in a jail show, before Rockhopper revealed, "And while my career might have seen me behind bars, it's funny, because I started as the polar opposite. And I think those with halos for all I've accomplished."
Mo questioned what that meant, and it seemed Jonathan Ross was on the case as he said that if you invest in a philanthropic action, you're known as an angel.
"Tonight, I'm ready to do my thing and bring it once more." Rockhopper then went onto rock the stage with her rendition of Edge of Midnight by Miley Cyrus. What do you think this clue song could mean?
Week 4 show clues...
It was double the clues, so we had our eyes peeled for anything we could spot! Rockhopper began her clue package with: "The panel are certainly still in the dark as to who I am. I'm using every trick in the circus to keep them guessing for as long as possible. I won't lie to you. I do enjoy a spot of retail therapy." We then saw Rockhopper walking through the circus tents carrying shopping bags with the names "Pet Supplies," "Cowell's Crystals," "Elton's Footwear Emporium," and "Whatcha Think About That Watches" on them.
"Find me a girl who doesn't," she continued, while Rita Ora mentioned Elton John as she had a peek at the names of the shopping bags. "It's nice to take a break from the circus. Sometimes I swap the Big Top for another squared circle." As the judges questioned what that could mean Mo Gilligan thought that it could be someone who changed their career path.
"Change is good. It provides growth, and that's always important. Did someone forget to pay the electricity?" Rockhopper said as the lights went out. Jonathan Ross mentioned that maybe someone had a big event where they lost electricity or lost power. "Tonight, I'm hoping to do justice with another legendary performance."
As it was double the clues, we were allowed to have a sneak peek at Rockhopper's socials. In her video, she said: "As you guys know, I'm doing a sponsored swim around the Antarctic. It's for such a good cause, so your support is really appreciated. Sponsor link is below, and you can swipe up to donate. Thanks!" Has this given you any ideas?
Who is Rockhopper in 'The Masked Singer' UK? Theories…
One popular theory is that it might be Austrian drag act Conchita Wurst (real name Tom Neuwirth) who was crowned the winner of the 59th Eurovision Song Contest. Seems like a pretty good guess to us! Especially if we look at the last clue of making headlines by being the first.
Meanwhile, Davina guessed singer and dancer Kimberly Wyatt and Mo Gilligan thought Britain's Got Talent judge Alesha Dixon. Going with The Greatest Showman reference, Rita decided to go with Zendaya and Jonathan hilariously guessed Delia Smith or Nicole Scherzinger.
Week 2 theories...
Davina was the first to guess with Swedish singer Zara Larsson and Mo went with another Swedish singer, Robyn, and also Fleur East. Jonathan guessed Fearne Cotton or Ashley Roberts, while Rita Ora went for Jamelia, which everyone agreed was a good assumption.
There's certainly been a diverse range of guesses going on with the viewers at home— and they're certain that it's Destiny's Child star Michelle Williams! However, she did appear on The Masked Singer US, so we're not sure if she would appear again on the UK version.
Okay, so if my suspicions are correct and Rockhopper turns out to be Michelle Williams from Destiny's Child, then I hope we're getting a Dirtylicious duet with Poodle at some point in the show, right @tomchaplin #MaskedSingerUK 🐧🐶January 16, 2022
Rockhopper is 10000000% Michelle Williams. Her voice is so unique #MaskedSingerUK pic.twitter.com/SxRumR5KEgJanuary 16, 2022
Week 3 theories...
Davina went with her guess last week of Zara Larsson, and Jonathan said Fergie from the Black Eyed Peas. Mo decided to go with Bjork, while Rita went for Jamelia again from last week.
Fans at home are still certain that Rockhopper is Michelle Williams from Destiny's Child. It does seem that the William clues confirms this — but could it actually be her?
Rockhopper is definitely Michelle Williams from destiny's child! William clues confirmed it for me #MaskedSingerUKJanuary 23, 2022
rockhopper is 100% our butterfly, michelle williams. every clue matched up to her. no doubt about it. #MaskedSingerUKJanuary 23, 2022
Week 4 theories...
Mo was picked first to guess and he went with Nicole Scherzinger, and guest judge Olly Alexander also agreed with Mo's theory. Rita Ora stuck to her guess of Jamelia and Davina McCall said Zara Larsson as her guess again. Finally, Jonathan Ross decided to go for Ellie Goulding.
Yet again, Twitter users are convinced that it's Michelle Williams, with one even saying Kelly Rowland as their guess. So it looks like Destiny's Child is a popular theory! But could they be right?
Rockhopper is @KELLYROWLAND #MaskedSingerUK Roman numerals xlvii (Superbowl 47 had destiny's child as half time show & during that match lights went out). Squared circle is another name for a boxing ring & Kelly rowland does boxing workout videos. Also been in circus at 02.January 29, 2022
The new series of The Masked Singer continues on ITV — see our TV Guide for full listings.
Get the What to Watch Newsletter
The latest updates, reviews and unmissable series to watch and more!
Grace is a digital writer with WhatToWatch.com, where she writes series guides for must-watch shows and the latest TV news. She graduated from Anglia Ruskin University in 2020 with a degree in Writing and Film Studies, which only made her love for creative writing, film and TV grow stronger.
You'll usually find her watching the drama unfold in the latest reality series and much-loved soaps (usually with chocolate by her side!). Grace also likes to explore new places with her friends and family and, of course, watch and read about the latest films and TV series.