Holby's Joe McFadden: 'Essie's a good match for Raf. I'm looking forward to the clashes!' (VIDEO)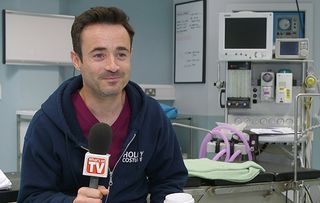 It seems Raf di Lucca's love life is looking up in next week's Holby City when he's convinced old flame Essie is flirting with him. Joe McFadden reveals more...
Holby City registrar Raf di Lucca had an on-off thing with nurse Essie Harrison a while back - and it looks like their relationship could be back on, or so Raf thinks.
In Tuesday's episode of the BBC1 medical drama, Essie (Kaye Wragg) uses her feminine wiles to persuade old flame Raf to sign up for the Holby Half Marathon that Dominic's recruiting for.
When Essie suggests they train together, Raf's hopeful that she actually wants to rekindle their relationship, so he agrees to take part in the marathon.
Discussing Raf and Essie's history, Joe McFadden told What's On TV: "Raf had the on-off 'friends with benefits' arrangement with Essie, but he learned pretty quickly that he wasn't sophisticated enough for an arrangement like that. He couldn't quite handle it and he developed feelings for her, which was never really the arrangement. He was never supposed to do that, but Raf being Raf he's a bit of a sentimentalist and got attached to her."
Raf's unimpressed, though, when he realises Essie's just been teasing him in order to get him to sign up. The joke's on Essie, however, when Raf takes issue with her for playing with his feelings! It seems he still holds a torch for her – but why?
Raf feels hurt when he realises Essie's just been toying with him
"Well, she's beautiful for a start, which always helps," teases Joe. "And she's very good at her job. That's the sort of thing I think would really impress him. She's very capable. She's very good at handling her high-up position of being a nurse on the ward and I think that really catches his eye."
It's safe to say that Raf hasn't had a lot of success with the ladies. First, he divorced wife Amy in 2014 after she cheated on him with colleague Harry Tressler then, just a few months back, he ended a fling with former patient, Kim, after she lied to him about being the father of her unborn twins.
"It's typical of Raf's love life, it's a bit of a disaster area really," says Joe. "He really liked the woman, but she was obviously very unsuitable because she was a drug addict and not terribly honest. But he was willing to overlook all of that because, in his eyes, he was the father of her twins. But then he very quickly learned he isn't, so again, another disastrous relationship for poor Raf."
Raf thought he had a future with Kim (Louisa Clein) - but it wasn't to be...
So why is Raf so unlucky in love? "I think some people just are, I can sort of relate to it to be perfectly honest," said Joe. "He has a very full professional life and is very dedicated to that, so I think perhaps he doesn't have that much room in his life for a relationship, which I can pretty much relate to as well."
But it seems things could finally be looking up with Essie. "In the upcoming weeks we see Raf convincing her to start a relationship with him," revealed Joe. "It would be nice if things work out with him and Essie because I think she's quite a good match for him. She's very good at her job, she's very confident, she's very sassy.
"I'm looking forward to having the clashes we're inevitably going to have professionally and personally because Raf obviously is a bit of a bighead as a doctor and it'll be interesting to see what happens with them."
Holby City continues Tuesday at 8pm on BBC1.
Get the latest updates, reviews and unmissable series to watch and more!
Thank you for signing up to Whattowatch. You will receive a verification email shortly.
There was a problem. Please refresh the page and try again.