10 Years Ago in the Soaps including EastEnders: Week beginning December 22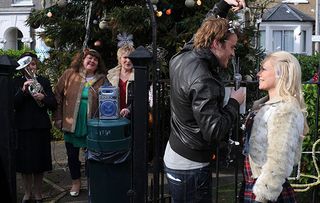 (Image credit: BBC)
10 Years Ago in the Soaps - Remind yourself of all the soap drama that was happening at Christmas in EastEnders, Coronation Street, Emmerdale and Hollyoaks 10 years ago this week!
Sean Slater discovered he wasn't Amy's dad in EastEnders, Steve McDonald was playing with fire in Coronation Street, Victoria Sugden nearly died in a frozen lake in Emmerdale and Warren Fox killed Louise Summers in Hollyoaks - 10 years ago in the soaps!
EastEnders - 10 Years Ago in the Soaps
Christmas Day started so perfectly for Roxy Slater (Rita Simons) with her hunky husband Sean (Rob Kazinsky) serenading her in the middle of Albert Square. But Roxy was desperately trying to keep the secret that he wasn't the father of her baby Amy. Suzy Branning had managed to get her hands on the paternity test results and tormented Roxy that she had hidden them somewhere. The tension mounted as Sean carved the turkey, but it was when he pulled his cracker and the results letter fell out that all was revealed - and the proverbial hit the fan!
EastEnders legend Dot Branning (June Brown) got an unexpected Christmas visitor when her bad penny son Nick Cotton (John Altman) turned up out of the blue. Nick insisted he was a changed man, but Dot was rightly suspicious of what he wanted. Nick explained he just wanted her to 'see what she looked like' - then pulled forward a seven-year-old girl and introduced Dot to her granddaughter, Dotty…
Coronation Street - 10 Years Ago in the Soaps
Steve McDonald (Simom Gregson) was desperate to escape playing happy families with Michelle Connor at the Rovers and got a message to lover Becky Granger (Katherine Kelly) to meet him at the cab office. He transformed the place into a winter wonderland with candles, fairy lights and music and Becky was thrilled when she turned up. Steve promised Becky they would be together in 2009 but just as things were hotting up between them, Michelle came looking for him. It was a close call…
Maria Connor (Samia Longchambon) was getting increasingly frustrated that no one would believe Tony Gordon had killed her husband Liam. She went berserk, grabbing a pot of red paint and daubing the word murderer across the factory wall, then chucking the rest of the paint over Tony's car. As a crowd gathered and the police turned up, Maria shouted she had done it because Tony had murdered her husband - but her mood changed to disbelief when she was the one the police arrested!
Emmerdale - 10 Years Ago in the Soaps
The Home Farm lake looked well and truly frozen but when Victoria Sugden (Isabel Hodgins) ventured onto it the ice suddenly cracked and she fell into the freezing water below. As she desperately tried to escape she had a moment of relief as she grabbed hold of a hand, until she realised it was lifeless! Daz Eden plunged in to her rescue and managed to pull unconscious Victoria to safety. As she finally took a breath, the terrified girl revealed there was a body in the lake. Who was it?
The Kings had been chucked out of Home Farm and, in the chaos, Carl King (Tom Lister) had forgotten to rescue his mum's jewellery box from the safe. When he told old flame Chas Dingle (Lucy Pargeter) she came up with a plan to help. The plan worked and as the chemistry sizzled between them, the pair kissed while Chas's son Aaron looked on in disgust. Next day, Chas told Carl the kiss was a mistake and to forget it. But could he?
10 Years Ago in the Soaps - Hollyoaks
It was the eve of their wedding and Warren Fox (Jamie Lomas) had pulled out all the stops to transform The Loft into a winter wonderland (yes - another one!) for his fiancée Louise Summers (Roxanne McKee). He also presented Louise with a beautiful eternity ring and Louise was heartbroken - she loved him so much but she couldn't trust him. She knew he'd been sleeping with Mandy Richardson and she planned to kill him on their wedding day - and frame Mandy for the murder!
Warren Fox was devastated as he realised what Louise had planned for their wedding day. He couldn't believe Louise wanted to kill him, even as he stared down the barrel of the gun she was pointing at him. He was shocked as she opened up and all the anger and hurt poured out. But Warren Fox never gave up without a fight and in the tussle that followed it was Louise who ended up dead. Warren managed to make her body disappear and it was only later he found out she'd been carrying his child. He had murdered the woman he loved and their baby…
Get the What to Watch Newsletter
The latest updates, reviews and unmissable series to watch and more!