'There's an attraction between Kyle and Nancy,' reveals Hollyoaks' new boy Adam Rickitt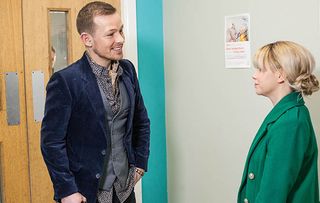 One-time Corrie star Adam Rickitt reveals all about his new role in Hollyoaks as the enigmatic Kyle, who is Nancy's ex-lover…
Nancy Osborne's thrilled when she bumps into her first boyfriend, Kyle, at a multiple sclerosis (MS) support group. There's still a spark between them and, at first, Nancy doesn't tell her husband, Darren, that she's bumped into her old flame.
"They were childhood sweethearts," Adam Rickitt tells Soaplife. "He's so pleased to see Nancy again because she was the person he loved most in a time before he had MS. It reminds him of how he used to be and they still get on really well."
Tell us more about Kyle… "Well, he's single, we think, and he hasn't got kids. When he knew Nancy [Jessica Fox], he was the bad boy that no father ever wants his daughter to date. He's very brave when it comes to his MS and he likes to put a positive light on it. He paints on a smile. He was probably the life and soul of the party before he had the condition."
Will his unexpected reunion with Nancy cause problems? "He could come between her and Darren [Ashley Taylor Dawson]. There's a bit of an attraction to Nancy and she sees him as somebody she can lean on. She knows and trusts him from the past, and he knows what she's going through with MS. Will it turn into anything? Wait and see!"
What does Kyle make of Darren? "If the two of them met walking down the street, they'd probably end up being best friends. But they have this stumbling block between them, which is Nancy. So, there's this slight tension between the two of them."
What does it feel like to be in a soap again? "It's great. I was Nick Tilsley in Coronation Street from 1997 to 1999 and I was last seen on the cobbles in 2004. I also appeared in the New Zealand soap Shortland Street, which is in the Guinness Book of World Records as the fastest soap in the world because they film 20 scenes a day!"
What makes Hollyoaks so special? "What I love about Hollyoaks is that they shoot scenes with a single camera and it feels more like a serial drama or a film, as a result."
What have you been up to since your Coronation Street days? "I lived in New Zealand between 2007 and 2012. I was only meant to go for three months, but the producer of Shortland Street really let me push my character [Kieran Mitchell]. He ran sex trade rings, he was a pimp, he dealt drugs, he married a 16-year-old girl… He did everything and I loved it. I also took a year out of acting and worked in the charity sector for a bit."
We hear you got married, too… "Yes, I met my wife, Katie (above), when she interviewed me for the ITV breakfast show, Good Morning Britain. The interview went on for six hours and afterwards, I rang my mum and said: 'I've met the woman I'm going to marry!'"
Hollyoaks, Channel 4
Get the What to Watch Newsletter
The latest updates, reviews and unmissable series to watch and more!