Darren Jeffries wondered if young Hollyoaks fans might've been like 'Who's Obb?' (VIDEO)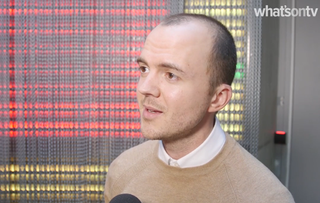 Darren Jeffries says the response to O.B's return to Hollyoaks after eight years away has been fantastic. He explains why he's back in the village...
Darren Jeffries has been overwhelmed by the response to his and his character O.B's return to Hollyoaks.
He told What's on TV the reaction to Thursday's news of his return has been 'fantastic, really, really lovely'.
"I wasn't sure what the reaction would be," said Darren. "I wondered if the younger viewers might have been like 'Who's Obb?' because I know he's been chatted about a lot, because my nieces and nephews they always watch Hollyoaks and they always tell me, 'Oh Tom's been texting O.B' or 'Tom went to visit O.B' so I know he's always been there in the background. So I think for a lot of viewers they get to find out who he is and I think it's been really lovely for the older viewers, you know, who I guess my character [they] grew up with."
Sam 'O.B' O'Brien left Hollyoaks in 2008 after more than a decade in the Channel 4 soap. O.B departed after his best friend, Max Cunningham (Matt Littler), died of cancer in his arms. So why is he back eight years later?
Darren explained: "The Osbornes have gone missing, nobody really knows why for sure and somebody gets in touch with O.B and asks him to come back and help find Tom [Cunningham], obviously O.B is very close to Tom, so basically I end up playing detective... trying to get to the bottom of the reason behind their disappearance. He might have an ulterior motive, but I'm not going to reveal that.
"Also I get to work with Stephanie [Wareing] who plays Cindy and also Tamara [Wall] who plays Grace, we kind of team up to find out the reason why[they've disappeared]. It's been lovely working with so many different actors."
Watch the interview with Darren Jeffries, above. O.B returns to Hollyoaks the week beginning Monday, November 14
Get the latest updates, reviews and unmissable series to watch and more!
Thank you for signing up to Whattowatch. You will receive a verification email shortly.
There was a problem. Please refresh the page and try again.