HO Rachel on Mitzeee's baby alarm!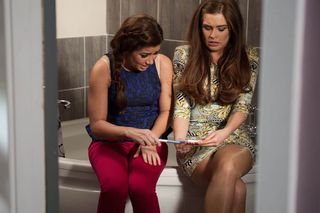 Hollyoaks' Rachel Shenton reveals to Soaplife how Mitzeee's big exit from Hollyoaks includes not only a pregnancy scare, but also the return of Carl, who involves her in his plan for revenge…
Just as Mitzeee starts to think she's getting her life back on track, along comes another curve ball - she might be pregnant! And while she's dealing with that, Carl returns to Hollyoaks. He's got a plan to avenge Riley's murder and wants Mitzeee's help. But with Mitzeee's exit coming up, it's clear that Carl's plan will have huge ramifications. "I feel I've done lots with Mitzeee and it's time to move on," Rachel tells Soaplife. Fasten your seatbelts!
So, why does Mitzeee think she's pregnant?
"She's late. So is her sister Maxine. They both think they could be pregnant by the same man – Tyson the stripper. It would be the worst thing possible for Mitzeee. Riley has only been dead for a couple of months and she had a one-night stand with Tyson."
So they buy pregnancy tests…
"And they do the tests and both tests read negative. The girls say, 'Thank God for that!', chuck the tests down and go to work…"
Could one or both of the tests could be wrong?
"Mitzeee's certain she isn't pregnant. She's worked out the dates and doesn't think it's possible. I don't know how she would cope if she were. She doesn't feel ready to have a baby now."
Then she's hit by another drama: Carl's return...
"Mitzeee's shocked to see him. Carl wants revenge on Walker for killing Riley, his son. Mitzeee doesn't feel quite the same. She's still consumed with sadness. She hasn't given much thought to payback."
Soaplife has heard that TV's Eamonn Holmes appears in your exit story...
"Yes, he does. I was over the moon when I read my leaving storyline. The ending is very dignified and very true. And it was great working with Eamonn. He was very enthusiastic about being in Hollyoaks."
Get the latest updates, reviews and unmissable series to watch and more!
Thank you for signing up to Whattowatch. You will receive a verification email shortly.
There was a problem. Please refresh the page and try again.