Hollyoaks' Anna Passey: 'My boyfriend makes out with my friends on the show all the time!'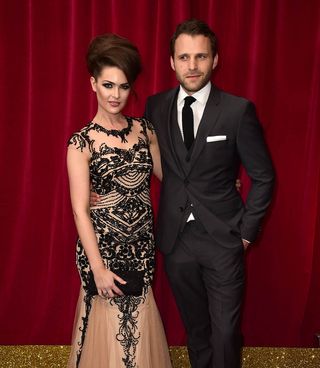 (Image credit: Matt Crossick)
(opens in new tab)Hollyoaks' Anna Passey reveals to Soaplife that she's living with co-star Nick Rhys, how playing crazy Sienna can be embarrassing and why she's the odd one out in her family…
In real-life, Anna Passey (opens in new tab), 30, is nothing like psycho Sienna in Hollyoaks. Anna is close to her family and lives with fellow Hollyoaks star Nick Rhys (opens in new tab), who plays love rat Lockie Campbell in the soap.
"Sadly, thanks to her upbringing, I don't think Sienna can have a normal relationship with a decent person," says Anna.
Is there a downside to playing such a crazy soap character?
"Not really - it's so much fun. I did have a bad experience in Asda once. A lady in the fruit and veg aisle went ballistic about what I was doing to Nancy [Jessica Fox (opens in new tab)]. It was embarrassing as not everybody in Asda watches Hollyoaks and, to the unknowing eye, I might have looked like a home wrecker. I put my basket down and ran out."
That does sound embarrassing!
"There was another time when I took my nephew to a Christmas market. He was about five at the time and I was at the height of my child-kidnapping story in Hollyoaks. I picked my nephew up and you could see people staring at me and thinking, 'Oh my God, she's pinched another kid!'"
What did you do before joining Hollyoaks?
"After doing English at university, I did a post grad course at a drama school in Camden, called The Bridge, where all the teachers are professional actors and directors who are not working on jobs – they rotate the staff. That's how I got my agent and started working professionally.
"I did a handful of plays and I've done a couple of films, but this was my first proper TV job. I had auditioned for another part in Hollyoaks - I went for the role of Annalise Appleton [who was played by Tamaryn Payne (opens in new tab)] and I was really disappointed when I didn't get it."
How do you feel about dating a co-star?
"I haven't been out with an actor before and I never thought I would, but it's nice to have someone who understands your working day. Doing this job makes me, at times, probably a bit more difficult than another job might. I do come home drained and it's good to be with someone who gets it and will give me space and listen to me talk about work."
Does it bother you when Lockie has passionate encounters with other characters?
"In every interview I have ever read with actors and actresses, they always say it's not weird because it's a job, but I find it so bizarre, especially as Lockie is making out with everybody all the time – these are my pals in the show. Jennifer [Metcalfe (opens in new tab), who plays Mercedes] will come up to me and say, 'I've been kissing your boyfriend all morning'.
"I've been in relationships where I've told boyfriends that they shouldn't get upset about it, but I feel different now the shoe is on the other foot. Nick and I do joke about it, too, though. When he's kissing John Paul [James Sutton (opens in new tab)] on screen, I play it in slow motion to make him squirm!"
Are you pleased that Sienna and Lockie aren't really involved with each other in Hollyoaks?
"Yes. It would be a nightmare if we were acting together. We would both show off to such a terrible extent to each other. It's a tricky balance when you work with somebody. It's nice to check in for lunch then go off and do your separate work. I'd prefer to keep it that way as long as possible."
What do you do to unwind after work?
"I really enjoy hot yoga by candlelight and I've become a big TV addict. I love a good box set and have just finished True Detective (opens in new tab). I really love Bates Motel (opens in new tab), too.
Are you happy at Hollyoaks?
"I never thought I would be here for this long as Sienna was only supposed to be in the show for a year. It's such a lovely place to work and I don't think I'll ever get another role as interesting as Sienna."
Who are your friends in the cast?
"I see a lot of Jeremy [Sheffield (opens in new tab), who plays Patrick, Sienna's dad] outside of work. He's so naughty and fun in real life – the polar opposite of Patrick. I'm also good friends with Jessica [Ellis (opens in new tab), who plays Tegan], Jessica [Fox (opens in new tab), who plays Nancy] and Daisy [Wood-Davis (opens in new tab), who plays Kim]. We do lots of nice things together."
Hollyoaks (opens in new tab), Channel 4
Get the What to Watch Newsletter
The latest updates, reviews and unmissable series to watch and more!