Hollyoaks' Emmett: Brendan hides Ste from his son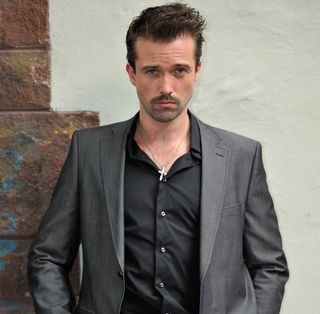 Hollyoaks actor Emmett Scanlan reveals to Soaplife how Brendan hides his real life from his newly arrived son Declan... Brendan has sneakily put an end to Ste's plans to move away with Noah. But his fight to win back his former lover has to be put on hold when his teenage son Declan comes to stay. "Family comes first for Brendan," says Emmett. "He's not the sort of person who'd want his son to know he's gay." So, more secrets and lies... What are Brendan's feelings for Ste? "They haven't changed. There's still this deep attraction and love there but Brendan's very territorial about him, too. If he can't have him he doesn't want anyone else to..." Which is why he splits up Ste and Noah. Will he try to build a proper relationship with Ste now? "Can a leopard change its spots? Brendan carries this inner rage and I think his relationship with Ste will be as it always has been. I can't see them walking around Hollyoaks hand in hand." Nor can we after Brendan's son Declan turns up out of the blue! Is he staying? "At least for a bit. Brendan's ex-wife Eileen shows up unannounced and says she's going away for a fortnight to a wedding and Declan needs somewhere to stay." Is Brendan close to his son? "He wants to be, but he hasn't been around for a lot of the time. He's determined to make the most of this fortnight and use it to get closer to his son." Will he hide his gay side? "That - and he'll want to hide the fact that he's a psychopath!" Will we see a different side to Brendan? "Yes, a much softer side. My own daughter is in Ireland and I don't see as much of her as I'd like. It hasn't been hard to put myself in Brendan's shoes." Will Brendan ever be ready to reveal himself as gay? "I can't imagine it. Brendan doesn't see himself as a gay man. He's been married with kids. He just sees himself as somebody who sleeps with men.."
Get the latest updates, reviews and unmissable series to watch and more!
Thank you for signing up to Whattowatch. You will receive a verification email shortly.
There was a problem. Please refresh the page and try again.