Hollyoaks: Freddie's back from the dead!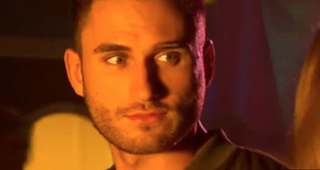 The last time we saw Freddie Roscoe, he was seen in the boot of Trevor's car after "Gloved Hand Killer" Lindsey had apparently killed him. With the help of sister Kim, she dumped the body in Trevor's car, thereby putting the Hollyoaks bad boy in the frame for murder. 
When Freddie was discovered in the boot of the car, DS Thorpe spotted that he was still alive, but viewers were led to believe that the cop had left the Roscoe brother to die rather than take the opportunity to bring him back from the brink. However, in a shock twist, revealed in last night's New Year's Eve episode, it turns out Freddie is actually alive and well – in Brighton!
New Hollyoaks resident Ellie Nightingale was in a club when she got flirty with Freddie, who introduced himself as Mark, not realising that he's actually one of the infamous Roscoe brothers.  
"Freddie's been placed into witness protection and he's been waiting out until they find the Gloved Hand Killer," says Charlie Clapham, who plays him. "Of course he has no memory."
Soon DS Thorpe emerged from the shadows and brought Freddie's flirting and partying to an abrupt halt by breaking the news about the death of his brother Ziggy.
"Will Freddie be returning to Hollyoaks? I think so," says Charlie. "He's very upset about the loss of Ziggy; it's come as a complete shock. And it's awoken his primal need to some back to see his family. "
Meanwhile, back in Hollyoaks, Lindsey pulled out her syringe and blue gloves to finish off Mercedes, but was stopped in her tracks by Theresa. With her murder plan foiled, Lindsey took Mercedes' phone and sent a hurtful text to Joe. So when she got home and found him down in the dumps after receiving the text, it wasn't long before they were tearing each other's clothes off! 
Back in Brighton, Freddie borrows Ellie's phone and called Lindsey, but of course she was too busy getting passionate with her ex that she didn't notice her phone was ringing…
What will Lindsey do when she discovers the man she thought she had killed isn't dead after all?
Get the latest updates, reviews and unmissable series to watch and more!
Thank you for signing up to Whattowatch. You will receive a verification email shortly.
There was a problem. Please refresh the page and try again.