Hollyoaks' Jessica Fox: 'Nancy won't let sex attack ruin her wedding'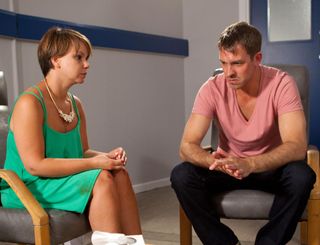 Hollyoaks' Jessica Fox tells Soaplife about the terrifying attack on Nancy - and why the future doesn't look good for her and Darren.
Nancy and Darren have experienced enough trauma to keep an entire team of counsellors busy for years… So, will their second wedding be a fresh start? The omens aren't good when a man attacks Nancy at her hen and tries to rape her… "How much more can go wrong for her?" says Jessica. "It will take an awful lot to knock Nancy down, but she is misguided about the wedding. Her and Darren need to deal with what's happened in the past before they can more forward."
Why does Nancy want to marry Darren (Ashley Taylor Dawson) again?
"She loves him, that's the real core of it, and she wants to try and prove to herself and everyone else that nothing will stop her and Darren being together."
Is Darren helping?
"She feels she's doing all the wedding work while Darren is playing computer games. I don't know why she is so surprised, but she gets very frustrated with him. She sees it as him being selfish. That's been one of her biggest bugbears with Darren, but this time she thought it would be different."
Rick (Victor Gardener) is very different, isn't he?
"Where Darren is being selfish, Rick is being incredibly helpful. He's charming, too and there is a spark there. When he tells Nancy that he'll leave her alone it makes her look at him again. I think that what she's doing is trying, unconsciously, to get her own back on Darren for cheating."
That's dangerous...
"I know and she feels horrific but, for some reason, she can't help herself."
What happens at the hen do?
"It's the worst hen do ever. It's Nancy, Frankie [Helen Pearson], Esther [Jazmine Franks], Maxine [Nikki Sanderson] and Phoebe at the pub. Robbie turns up and asks to talk to Nancy outside in the car park where he tries to kiss her and ends up getting a hard slap on the face. He goes and then someone comes at Nancy from behind."
What happens?
"The person forces her onto the ground, lifts up her skirt and pulls down her knickers. Then Phoebe appears. She hears the commotion and calls out which stops the attacker, who then runs off. Neither Nancy or Phoebe see who it is, but Nancy realises she was within seconds of being raped."
And?
"Phoebe [Mandip Gill] takes Nancy to the police station. Nancy wants to provide DNA so that this person is caught. Phoebe calls Darren, who wonders if they should cancel the wedding, but Nancy doesn't want to. She won't let this person ruin her life."
Does she have any idea who it might be?
"She very quickly jumps to the wrong conclusion."
Is the wedding ruined?
"No, It's very sweet. You see why Darren and Nancy are together. However, Nancy is still bruised from her attack, tired and stressed out."
What are their chances of happiness?
"Slim to none, which is a shame."
Hollyoaks, Channel 4. Click here for screen dates.
Get the What to Watch Newsletter
The latest updates, reviews and unmissable series to watch and more!