Joel Dexter wants Cleo in Hollyoaks! And Sienna too?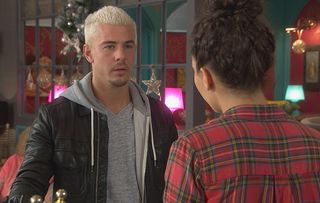 Sienna Blake encourages Joel to make a final bid to win back Cleo McQueen. But it may be Sienna he ends up with, teases Hollyoaks' star Rory Douglas-Speed…
There's only one thing Joel Dexter wants this Christmas… and that's Cleo McQueen by his side. "He's feeling sorry for himself," actor Rory Douglas-Speed tells Soaplife. "He wants Cleo back and he's in denial about the severity of what he's done." When Joel confides in Sienna Blake, she urges him to try and win Cleo back. Will he take her advice?
What's happening in Hollyoaks? See the latest soap storylines
Rory Douglas-Speed tells Soaplife how Joel feels about Cleo and Sienna in Hollyoaks
Soaplife: How's Joel feeling at Christmas time?
Rory Douglas-Speed: "He's lost the love of his life, so he's not in a good place. He's taking his mind off Cleo by helping Sienna, but he really wants Cleo back."
SL: Does he try and win Cleo round?
RDP: "Well, I think he'll get this overwhelming desire to make sure it really is well and truly over with her. He's hoping she'll give him one last chance."
SL: Why is he spending so much time helping Sienna?
RDP: "He feels guilty Warren Fox left the village and Joel didn't know baby Sophie was in the car. He's always been on Sienna's side, though. I also think he wants to step up to the plate and prove himself as a father figure to the twins. After all, they are his half-brother and sister.
SL: Does he relate to Sienna?
RDP: "I guess they're quite similar. They've both done some bad stuff in the past. Sienna has a lot of issues, but Joel doesn't judge people."
SL: Does he have feelings for Sienna?
RDP: "Let's just say that right now they're purely just good friends, but it's going to create a more organic relationship when things get a bit more intense as Sienna goes through chemotherapy. They'll grow closer…"
SL: What will he think if he finds out about all the things she's done?
RDP: "He'd be shocked by some of the stuff from her past. I mean, it's all pretty ridiculous. He's a good judge of character and he can see when Sienna's going off the rails a bit. It will be interesting to see how he deals with that."
SL: Would you like to see them end up together?
RDP: "It would be interesting. Initially, I thought it would never work, but it's inevitable they'll get closer because of the cancer and the journey they go through together."
SL: What sort of a Christmas does Joel have?
RDP: "He's feeling very conflicted. He's trying to sort his own head out as well as Sienna's."
SL: What are you doing for Christmas, Rory?
RDP: "I'm going to Scotland to see my family. My sister had a baby last year and I want to see the new one. I haven't been home for four months, so I can't wait to get up there and enjoy the holiday."
Get the What to Watch Newsletter
The latest updates, reviews and unmissable series to watch and more!