'Reenie's very damaged,' says Hollyoaks' Zoe Lucker of her new McQueen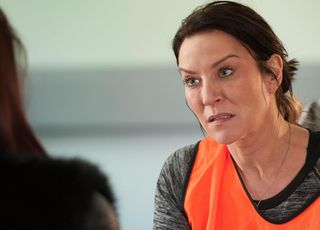 Jailbird McQueen mum Reenie will join her daughters next week, reveals Hollyoaks' newcomer Zoe Lucker, but Porsche's not happy!
It has been, well, months since a new McQueen appeared in Hollyoaks, so it's definitely time for another one… Enter Reenie, mother of Porsche, Celine and Cleo. She's currently in jail and wants Porsche to get her some money so she can start a new life on her release. "Porsche agrees to get the money," says Zoe. "But she doesn't get on with her mum and tells her she wants her to take the money and disappear."
Reenie's not going anywhere, though…
Why is Reenie in jail?
"She got drunk and smashed a shop window. She's only in for a short stint. She's probably been locked up overnight before, but this is her first proper stretch. Reenie knows about prison, though, as Vinnie, who's the father of her girls, is doing time for murder."
Nice. What can you tell us about Reenie?
"She has a good heart, but she's very damaged. She tries her best to be a good mum, but she feels she's let down Porsche [Twinnie-Lee Moore], Celine [Sarah George] and Cleo [Nadine Mulkerrin]. Celine and Cleo get on with her, but Porsche doesn't. In certain families, the chemistry just isn't right between some people and that's how it is with Porsche and Reenie. Porsche thinks Reenie will break down the family unit she's tried to so hard to build."
How does Reenie get on with Nana McQueen?
"She's Nana's daughter and they're really fond of each other. Reenie loves her mum and Nana [Diane Langton] loves her back, although she's aware she has a lot of problems."
So, where's Reenie going to live?
"She's going to move into the McQueens', where she'll be on her best behaviour because she wants to prove she can make things work and be a good mum."
Can she?
"We're addressing serious issues and there will be a lot of drama – and tears!"
How long are you in Hollyoaks for?
"I'm here until December, so Reenie will be off-screen around January time."
Hollyoaks, C4
Get the What to Watch Newsletter
The latest updates, reviews and unmissable series to watch and more!