Moira turns fortune-teller and Cleo tries to win back Joel in Hollyoaks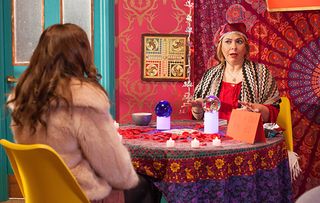 Moira becomes a fortune-teller and is on a secret mission to reunite Adam and Maxine but will her ploy work?
Moira becomes a fortune-teller and when Maxine pays her a visit she tries to convince the conflicted young mum that she should get back with Adam and give him another chance.
Will Maxine heed her words or will she suspect that Moira and her crystal ball, have got a hidden-agenda? [check out the latest Hollyoaks storylines].
Meanwhile, Cleo is determined to get back with Joel but she's got a rival in Sienna.
As the two women go head to head who will come out on top and who does Joel's heart truly belong to?
Moira turns fortune-teller and Cleo tries to win back Joel in Hollyoaks
As Maxine listens to Moira's words of wisdom, will she be swayed when Moira urges her to give Adam another chance?
Moira has secretly been paid by Glenn who wants to see his son reunited with Maxine. Is Maxine about to see through the cunning ruse?
Alfie is trying to bury his grief over Jade's death by making a "Jade robot", but when Milo tells him it's a really bad plan, a despondent Alfie is left feeling even more blue
Cleo goes head to head with Sienna and is determined to win Joel back. She cooks up a plan and calls Joel telling him she's got an emergency and her car has broken down
As Joel arrives on the scene to help Cleo, his ex pulls out all the stops to try and convince him he should be with her. But what will Sienna make of the scene when she sees the pair together? Watch the drama unfold in Hollyoaks on Channel 4 from Monday 12 Feb
Get the latest updates, reviews and unmissable series to watch and more!
Thank you for signing up to Whattowatch. You will receive a verification email shortly.
There was a problem. Please refresh the page and try again.