Home and Away's Billie to give birth in a bushfire?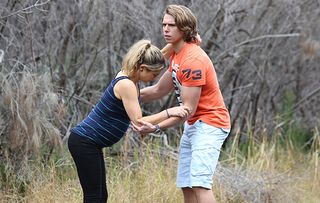 Pregnant Billie is in labour but she and VJ are stranded when the car breaks down en route to the hospital! Their mobiles don't work and, worse still, a bushfire has been started by the serial arsonist who's at large in the Bay…
Having had a row with VJ about the baby, stressed-out Billie has gone into labour and needs to get to hospital ASAP. But as VJ is driving his girlfriend to the maternity ward the car breaks down! When they fail to get a signal on their mobiles, the situation looks bleak for the couple as the Bay's serial arsonist has started a bushfire which is sweeping through the outback…
Can VJ get Billie to safety? Will she have the baby? And will other locals such as Evie, Hunter and Marilyn survive the fiery ordeal?
Pregnant Billie is in labour and on her way to hospital with VJ…
Pregnant Billie is in labour and on her way to hospital with VJ…
… when the car breaks down the couple find themselves stranded - with no mobile reception!
VJ needs to act fast to get labouring Billie to safety as not only is the baby coming - a bushfire is sweeping through the Bay…
Having fled the festival to take refuge from the fire in a shack, Evie and Zack try to make a run for it. But with smoke surrounding them, Evie is having trouble breathing…
Defying everyone's advice, Brody and Hunter head out in to the bush on a rescue mission…
As he realises a burning branch is about to hit Hunter, horrified Brody calls out to him…
Will Brody's desperate shout-out save Hunter - or is he about to become a casualty of the bushfire?
John is desperately worried about Marilyn who hasn't shown up either at the hospital or elsewhere…
After John heads out on his own to find his wife, Alf catches up with him. He's bought extra supplies to assist grateful John, whose torch has died on him. Will the men find Marilyn? Watch Home & Away on C5 from Monday 13 March.
Thank you for signing up to Whattowatch. You will receive a verification email shortly.
There was a problem. Please refresh the page and try again.