Romantic proposal! Hunter asks Olivia to marry him in Home and Away. Will she say yes?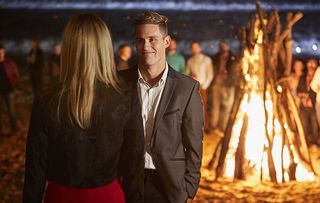 Hunter arranges a romantic proposal for Olivia on the beach but as he gears up to pop the question is Olivia about to break his heart?
After a rocky few weeks, Hunter is more sure than ever that he wants to spend the rest of his life with Olivia and sets to work planning the perfect romantic proposal.
However it seems that Olivia's heart and head are in a different place altogether and when Axel asks her to go to Paris with him for a fashion show, she's overwhelmed with temptation.
Feeling conflicted, she decides to go to Irene for advice and pours her heart out but Irene is not impressed that she's even contemplating a trip to Europe.
As friends and family help Hunter with his proposal plans and record special messages for his planned video, Irene is worried.
Is Hunter about to pop the question only to be turned down? Or will Olivia decide he's the man for her and say yes?
Hunter gears up to pop the question on the beach
Hunter gears up to pop the question on the beach
Earlier on Ziggy is concerned when Mason breaks the news that Hunter is planning to propose that same evening
Hunter is having a wobble but Mason tries to calm his nerves, telling him it will all be fine
Ziggy tells Brody that she's planning to come to the party he's throwing, where Hunter is going to do his public proposal
Everyone gets ready for the party on the beach including Ziggy and Jarrod and friends and family make their way down to the bay
As Ziggy and Jarod stand side by side, Ziggy plucks up the courage to tell him she doesn't think they have a future together
Jarrod is devastated and walks away, leaving Ziggy alone
Meanwhile Irene, Marilyn and John are all gathered and waiting for the surprise proposal moment
Everyone is gathered round the bonfire for the big moment
Finally Olivia arrives and is stunned to see all the trouble Hunter has gone to
A nervous Hunter takes a deep breath and makes an in impassioned speech about how much he loves her before asking Olivia to be his wife
But, overwhelmed by the enormity of the situation, a worried Olivia is silent
She breaks Hunter's heart by telling him she can't marry him
Hunter is utterly devastated
Olivia flees leaving a shell-shocked Hunter trailing after her
Friends and family, including Roo and Ben watch on as the humiliating scenario unfolds. Has Olivia decided to go to Paris after all and is it Axel she wants to be with? Watch the drama unfold in Home and Away from Monday 5 March on Channel 5
Get the latest updates, reviews and unmissable series to watch and more!
Thank you for signing up to Whattowatch. You will receive a verification email shortly.
There was a problem. Please refresh the page and try again.