Where there's a high there's a low – Brody's taking drugs!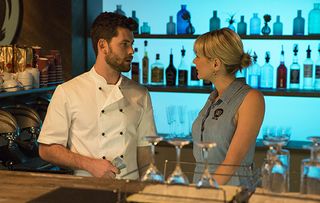 It all kicks off at Salt when Justin finds out his brother Brody is using drugs supplied by Lena
Brody is under pressure to make Salt a success in Home and Away. But is new recruit Lena helping or hindering? So far, he's secretly taken the party-girl's advice to use drugs as a pick-me-up. But where there's a high, there's a low…
When Justin picks up on his brother's strange behaviour, some investigation soon leads him to the source – cocaine. He's livid with Brody but after Justin tears strips off his sibling, will it stop the chef from using?
brody morgan
brody morgan
With a reviewer coming in to Salt, Brody is seriously stressed.
Lena urges Brody to calm his nerves with a 'pick-me-up'…
On cocaine, Brody's stressed-out mood vanishes. As he becomes life and soul of Salt, he offends the reviewer - and ends up kissing Lena!
After chatting to Mason about Brody, Justin suspects their brother is doing drugs and investigates.
Furious Justin confronts Brody…
… Brody denies he's using, but Justin knows he's lying and demands his brother sorts his life out and gets rid of Lena. Will Brody sober up? Watch Home and Away on Channel 5 from Monday 8 May.
Get the latest updates, reviews and unmissable series to watch and more!
Thank you for signing up to Whattowatch. You will receive a verification email shortly.
There was a problem. Please refresh the page and try again.