How to watch 'Judas and the Black Messiah'
Spoiler alert: you're going to need an HBO Max account.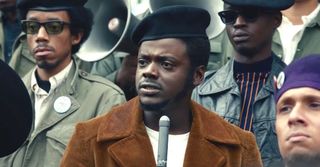 (Image credit: Warner Bros.)
Judas and the Black Messiah will be one of the first films to test Warner Bros. dual release strategy by releasing on both streaming and in theaters at the same time. The industry giant put the plan forward in an attempt to combat losses incurred by the COVID-19 Pandemic. Though the release strategy was met with a lot of frustration from Warner Bros.' various partners, they've held fast to their plan. That means you'll have multiple options on how to watch Daniel Kaluuya's latest.
Cool, so how do I watch 'Judas and the Black Messiah'?
Depending on whether or not you're a film festival-goer, your options will be tapered based on release date. If you're attending Sundance Film Festival, you'll have the option to watch the film during its world premiere on February 1st. If online festival going isn't really your thing, you've still got options!
On February 12th, Judas and the Black Messiah will be available to stream on HBO Max, and in select theaters across the United States. Subscribers to the streaming platform will have 1 month to watch the film before it's pulled from HBO Max.
If you're not already signed up for HBO Max, there's a chance you already have the service. In may states, if you have the channel, you have the platform! If HBO isn't a part of your channel package, or you live in one of the excluded states, you can sign up for HBO Max for $14.99 a month.
What's 'Judas and the Black Messiah' about?
Judas and the Black Messiah follows the story of Fred Hampton (Daniel Kaluuya). The film takes place in 1960s Illinois, when Hampton was the Chairman of the Black Panther party. Upon stepping into his role, Hampton gains a good amount of both allies and enemies, one of which being the Federal Bureau of Investigation. The Bureau proceeds to bribe William O'Neal (Lakeith Stanfield) to infiltrate the party and gather intelligence on Hampton in exchange for a plea deal.
Director: Shaka King
Writers: Will Berson, Shaka King, and Kenny and Keith Lucas
Producers: Shaka King, Ryan Coogler, and Charles D. King

What are critics saying about 'Judas and the Black Messiah'?
We're not sure about the rest of the internet, but here's what our critic Ro Moore had to say about Judas and the Black Messiah out of Sundance 2021:
Judas and the Black Messiah is a gut wrenchingly intense journey into the web of conspiracies that led to the assassination Fred Hampton (Daniel Kaluuya) at the age of twenty-one. Shaka King's feature-directorial debut embraces the grit and grift of a crime thriller to expose a traitor and divulge the sordid machinations of a government intent on keeping its foot on the necks of Black people no matter the means...or the cost. At this point in history, the FBI's COINTELPRO initiative is no longer a secret; and if you ask most Black people, it never was.
Amelia is an entertainment Streaming Editor at IGN, which means she spends a lot of time analyzing and editing stories on things like Loki, Peacemaker, and The Witcher. In addition to her features and editorial work, she's also a member of both the Television Critics Association and Critics Choice. A deep love of film and television has kept her happily in the entertainment industry for 7 years.
Thank you for signing up to Whattowatch. You will receive a verification email shortly.
There was a problem. Please refresh the page and try again.