How to watch Cartoon Network if you've cut the cord
published
Some channels play peek-a-boo when it comes to being available on streaming TV services. Fortunately, Cartoon Network isn't one of them.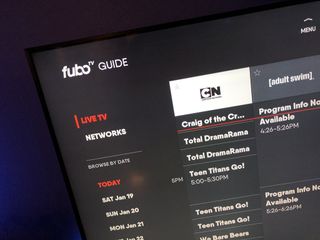 If you haven't heard — there's a new Steven Universe special on the way on Jan. 21. That's a big deal for a lot of folks. The question, then, is how you'll be able to watch it if you've cut the cord and rely on online streaming services for your TV fix.
So how do you watch Cartoon Network without cable or satellite? The answer is quite easily. A quick breeze through the CordCutters Streaming Channels Matrix shows that all the major streaming services have Cartoon Network. And what's more is that the ones with multiple plans — PlayStation Vue, DirecTV Now and Sling TV — all have Cartoon Network included in their least-expensive option.
| | AT&T TV | Sling TV | Hulu Live | Fubo | YouTube TV |
| --- | --- | --- | --- | --- | --- |
| Cartoon Network | x | x | x | x | x |
Let's break down things a bit further, though:
Cartoon Network on Hulu
There are two flavors of Hulu — the on-demand variety, and Hulu With Live TV. Cartoon Network is available on both.
Hulu starts at $7.99 a month (after a free trial). That'll get you full access to the Hulu on-demand library, which includes Cartoon Network. You can bump things to up $9.99 a month if you prefer your shows without advertisements.
For Cartoon Network's live stuff, you'll need Hulu With Live TV, which starts at $34.99 a month. For $5 more you can get that without all the commercials in the on-demand catalog.
Cartoon Network on Sling TV
Sling TV makes things simple on you. Well, sort of. See, Sling has two basic plans. One's "Orange," the other is "Blue." And both of those plans have Cartoon Network. Is one plan better than the other? Well, that depends on what else you might want to watch — the two plans share some channels but have others exclusively.
We didn't say this would be easy.
On the other hand, both plans are the same price — $35 a month. Or you can get them both for $50 a month. Your call. Just be sure to use that Sling TV free trial!
Cartoon Network on AT&T Now
AT&T TV Now has four plans as well (and another Spanish-language plan). The least expensive of the four — known as "Live a Little" by those who like to name their streaming video plans — runs $40 a month. (The top plan, "Gotta Have It," takes things up to $75 a month.)
And of the plans has Cartoon Network. So you're covered no matter how much you want to spend.
Cartoon Network on YouTube TV
And finally we've got YouTube TV. One plan, one price. That's $40 a month. Let's not overcomplicate things. (Though you will definitely want to check out YouTube TV vs. Hulu before you make any rash decisions.)
Get the latest updates, reviews and unmissable series to watch and more!
Thank you for signing up to Whattowatch. You will receive a verification email shortly.
There was a problem. Please refresh the page and try again.