Flashback! Mark and Paige kissed in Queensland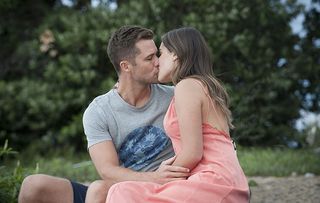 A flashback episode, to Paige's trip to Queensland, reveals she and her ex, Mark, kissed when he came to visit her.
A flashback reveals why there's such tension between Paige and Mark in Neighbours. They kissed when he visited her in Queensland! But she insists she wants to leave things there and move forward rather than rekindle a relationship.
Mark is gutted to be rejected, and he's not the only one as Jack pipes up about how he feels about single mum Paige who turns him down, too, saying he had his chance and now her son Gabe is her only focus.
It's all a bit awks at Paige's birthday party where she tells Elly, she has no regrets about how things ended with Mark. But when she goes on to give Elly a voucher for a wine-tasting, and Elly takes Mark, she is left shocked at the jealousy which bubbles up inside her.
Elly and Mark's vineyard visit sees the pair have an amazing time. Is romance on the horizon? Can Paige handle that?
Secret revealed! Mark and Paige kissed when he visited her in Queensland
In a flashback to Paige's trip to Queensland, we see her having a DMC with Mark.
The exes talked about their lives - and their past together.
Sat by the marina, taking in the view, a spark reignited…
… which lead the pair to kiss!
But although Mark was delighted…
… Paige wants to leave their kiss there, back in Queensland.
After grilling Paige about her feelings for Mark, Elly invites Mark to a vineyard.
They discover that they get on really well - and there's chemistry too…
The non-date date is a resounding success!
Elly is taken with Mark…
… and it seems as if Mark feels the same. But what about Paige?
Is romance on the cards for Elly and Mark? Is Mark over Paige? Watch Neighbours on Channel 5 from Monday, July 3
Get the latest updates, reviews and unmissable series to watch and more!
Thank you for signing up to Whattowatch. You will receive a verification email shortly.
There was a problem. Please refresh the page and try again.