10 Years Ago in the Soaps: Week Beginning June 17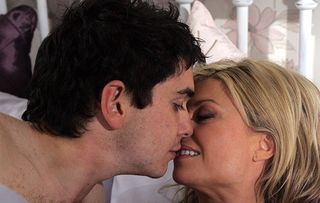 Remind yourself of all the soap drama that was happening in Corrie, Emmerdale, EastEnders and Hollyoaks 10 years ago this week!
Jamie Hope got lucky in Emmerdale, Claire Peacock identified her stalker in Corrie, Stella Crawford continued to torment Ben Mitchell in EastEnders, Clare Devine was attacked in Hollyoaks, plus lots more dramas this week 10 years ago
Emmerdale
Vicar Ashley Thomas (John Middleton) was rattling around in Mulberry Cottage all on his own as wife Laurel was away and his resident teen, niece Jasmine, was staying with Debbie Dingle. Lonely Emily Kirk (Kate McGregor) decided Ashley was just what she needed and was thrilled when he cooked dinner for them both. Ashley was just being vicarly, though and, after making a move on him, Emily realised she was looking for love in the wrong place and dashed off, leaving Ashley very confused.
Diane Sugden's birthday party was a gift to postman Jamie Hope (Alex Carter), who got drunk with Louise Appleton (Emily Symons) and delivered his passionate feelings for her…in bed! Next morning, though, Louise panicked when she woke up next to Jamie, who was 17 years younger than her, worried they would get caught. Yes, as a younger bloke he had plenty of stamina, but Louise wasn't sure she had the strength to deal with the village gossips. Still, she couldn't keep her hands off him!
Corrie
New mum Claire Peacock (Julia Haworth) was being stalked by Casey Carswell, a woman crazed with grief over the loss of her baby. Casey had been Claire's friend until she took Claire's baby boy Freddie out for a drive without her consent. But Claire's husband, Ashley (Steven Arnold), had never seen Casey and was starting to doubt her existence. So you can imagine his relief, and Claire's, when they found a picture of Casey among some photos Claire had taken and gave it to the police. But that didn't stop Casey, it just made her behaviour worse…
This time 10 years ago was a sad time for fans of Liam Connor (Rob James-Collier), who had just returned from a trip to Ireland… Liam went there to bury his brother, Paul, who had died in a car crash when he kidnapped prostitute Leanne Battersby – who was also Liam's girlfriend. Paul had been using Leanne's services and was dumped by wife Carla when she found out. A right mess, eh? Still, Liam returned to Weatherfield, only to decide he couldn't stay and packed his bags again. So it seemed to fans that he was leaving for good. But he wasn't. Well, not this time…
EastEnders
Bunny-boiler Stella Crawford (Sophie Thompson) had a plan to make Phil Mitchell her husband and it involved young Ben Mitchell (Charlie Jones). She bullied him mercilessly but also used him to win over Phil. At this time 10 years ago, Stella knew Phil wanted Ben to love things like football and Ben knew it, too. So Stella told the boy she would practice with him. But Ben accidentally kicked the football in Stella's face and she went ballistic. Ben was so scared he wanted to tell Phil just how badly Stella was treating him and that rattled her – and made her more dangerous!
Dawn Swann (Kara Tointon) finally gave birth to the baby that she had been desperately protecting from mad May Wright and her husband Rob Minter. At the end of this week 10 years ago, Dawn thought she was safe in hospital with her daughter, Summer. But she wasn't…
Hollyoaks
Clare Devine had made sure that Warren Fox (Jamie Lomas) had been arrested on suspicion of Sean Kennedy's murder – by getting all the details from Justin Burton (Chris Fountain). But Warren was released and went straight to Justin, who cracked and pointed the finger at Clare. By the end of this week, Clare is lying in a broken heap at the bottom of the stairs to the club, pushed by an unknown assailant, and Justin is hit by a car.
It was a week when Clare Devine (Gemma Bissix) had upset a few people… Desperate to keep Warren Fox locked up (see above), Clare asked copper Calvin Valentine for help and, when he refused, she told him that his girlfriend, Louise Summers (Roxanne McKee), had lied about miscarrying their baby and had actually had an abortion. Calvin humiliated Louise in front of the whole village, which led to Louise knocking Clare for six for ruining her relationship with Calvin.
Get the What to Watch Newsletter
The latest updates, reviews and unmissable series to watch and more!