10 Years Ago in the Soaps including EastEnders: Week beginning Saturday August 4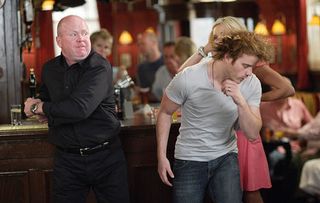 (Image credit: BBC)
10 Years Ago in the Soaps - remind yourself of all the soap drama that was happening in EastEnders, Coronation Street, Emmerdale and Hollyoaks 10 years ago this week!
Sean Slater got a black eye in EastEnders, Audrey Roberts crashed her car in Coronation Street, Andy Sugden gave Sam Dingle a beating in Emmerdale and Jack Osborne was back from the dead in Hollyoaks - 10 Years Ago in the Soaps…
10 Years Ago in the Soaps - EastEnders
Sean Slater (Rob Kazinsky) knew just how to push Phil Mitchell's buttons but got a black eye for his pains when he wound him up once too often. Sean carried his pregnant new wife Roxy (Rita Simons) into The Queen Vic, snogged her in front of everyone, and couldn't stop talking about their baby being "strong and a real fighter." Phil (Steve McFadden) took this to be a slur on his own son, Ben, who was into musicals and dancing rather than fighting! Phil lost his temper and punched Sean…Luckily Roxy was on hand to make it better!
Gary Hobbs (Ricky Groves) couldn't believe his luck when Clare Bates (Gemma Bissix) invited him back to her place - or rather, Dot Branning's place! But he soon realised he was way out of his depth when Clare started talking about how the men in her life had let her down, and was looking for a way to escape when Dot, Bradley and Stacey came home. Seeing Gary with Clare wearing just a skimpy robe, they assumed they had been getting up to no good. Gary wished!
10 Years Ago in the Soaps - Coronation Street
It's hard to imagine Audrey Roberts (Sue Nicholls) going on a booze cruise but that's what she did 10 years ago in the unlikely company of Janice Battersby and Kevin Webster's dad Bill (Peter Armitage). The trip had been an endurance test for Audrey and by the time they were on the way home, she was the only one sober enough to drive. But disaster struck when she took her eyes off the road and crashed their people carrier. Audrey came of worst in the accident, but recovered after a stay in hospital.
David Platt (Jack P Shepherd) was determined to be the best boyfriend ever for Tina McIntyre (Michelle Keegan) but he went a very odd way about it. He started hacking into Tina's emails to get hints on how best to treat her, but it backfired dramatically when she found out and accused him of trying to control her. David tried to explain he'd had the best intentions but it was too late. Tina packed her bags…
10 Years Ago in the Soaps - Emmerdale
Andy Sugden (Kelvin Fletcher) had a violent temper. He regularly lashed out at his wife Jo (Roxanne Pallett) and his fury knew no bounds when he walked in to catch Jo planting a kiss on Sam Dingle's forehead. Sam (James Hooton) had just told Jo that he loved her and she was telling him she loved him, but only as a friend. Sam ran off, but after giving Jo a beating, Andy tracked Sam down - and gave him a vicious beating, too.
Jimmy King (Nick Miles) was bemoaning the lack of choice on the opposite sex front and declared himself a firm bachelor. But his brother Matthew had other ideas. After getting Jimmy tipsy in the pub, Matthew got him home just in time for the arrival of a woman called Roberta who'd given him her phone number. Jimmy was edgy as Roberta tried to seduce him but when she dissolved into tears, Jimmy sympathised - and before he knew it, they were kissing… and more!
10 Years Ago in the Soaps - Hollyoaks
Jack Osborne (Jimmy McKenna) was meant to be dead. At least that's what his hapless son Darren (Ashley Taylor Dawson) had told everyone. Yet here he was, large as life, standing over his own grave! Darren had talked Jack into this crazy plot as a way of claiming insurance and solving their money problems. But the reality of the situation started to hit him as he gave the eulogy at Jack's funeral service and he broke down under the weight of his guilt. Later, at the graveside, he and Jack weighed up all the grief they'd put the family through and realised they were in way too deep…
Barry 'Newt' Newton (Nico Mirallegro) was convinced that HE had killed Jack Osborne and, in front of everyone, confessed to the crime and said he wanted to be arrested. The poor man was tormented by Jack's death (though, of course, he wasn't dead) and was terrified when he picked up Darren's phone and heard Jack's voice on the end of it! He did everything he could to block out Jack's voice – dismantling every bit of electrical equipment in his room – but it continued to haunt him.
Get the latest updates, reviews and unmissable series to watch and more!
Thank you for signing up to Whattowatch. You will receive a verification email shortly.
There was a problem. Please refresh the page and try again.