10 Years Ago This Week in the Soaps: 10 December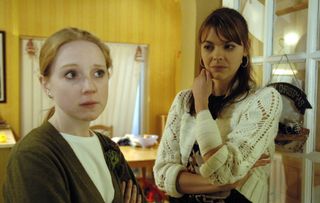 Remind yourself of all the soap drama that was happening in Corrie, EastEnders, Emmerdale and Hollyoaks 10 years ago this week.
Corrie
Tracy Barlow had to keep her revenge plan for love-rat boyfriend Charlie Stubbs on track and purposely burnt her own arm with an iron. Then she 'admitted' to Claire Peacock that the injury was no accident and she had been suffering mental and physical abuse from Charlie. Claire fell for Tracy's story hook, line and sinker. Bless!
Jamie Baldwin was shocked when Violet Wilson told him she was pregnant with his baby, then came clean himself and told her about his affair with his step-mum Frankie. Nice one!
The Websters and the Platts were less than impressed when Audrey Roberts told Bill Webster they should give the gossips something to talk about and asked him to move in with her. Go Audrey!
EastEnders
Bradley Branning told Stacey Slater that his boss Andrews wanted to see him… Bradley hoped it was about giving him a Christmas bonus. Stacey hoped so too, she was keen for them to get a flat together, but Bradley was less enthusiastic.
The truth came out that Pauline Fowler was faking her brain tumour illness and she told Martin she was sorry for lying but she was only trying to protect her family. Pauline continually ignored Sonia and eventually Martin told her to get out…
Pregnant Dawn Swann had hopes her lover Rob Minter would leave his wife May for her and was horrified when he gave her some money and told her to have an abortion. Dawn told him to get out and to take his blood money with him.
Terry Woods was getting increasingly concerned about Bob Hope's obsessive plotting of revenge against the Kings over his daughter Dawn's death. Bob's latest plan was to ruin Tom King's wedding day.
Terry had even more to worry about when his late wife Dawn's mum Jean ran away to Morocco with his little boy TJ – Terry Junior. Terry raced after them but was stopped by security at the airport. Terry was devastated he had lost his son.
Matthew King took great pleasure in revealing to his shocked dad Tom that his fiancée Rosemary Sinclair was penniless. Rosemary admitted it was true but declared her love for Tom and suggested a pre-nuptial agreement.
Arrogant Justin Burton had made one enemy too many and, after confrontations with both Nancy Hayton and Sonny Valentine was trying to flee the village when he was knocked unconscious by a mysterious figure…
Justin disappeared and Sasha Valentine was the only one missing him. No one realised the danger terified Justin was in as he was tormented by his mystery captor…
Elsewhere, Darren Osborne landed Steph Cunningham a personal appearance at a nightclub but she got more than she bargained for when a fan revealed her true identity, and she started to realise that fame wasn't all it was cracked up to be.
Get the latest updates, reviews and unmissable series to watch and more!
Thank you for signing up to Whattowatch. You will receive a verification email shortly.
There was a problem. Please refresh the page and try again.