Adrian Chiles is returning to the BBC's The One Show, five years after defecting to ITV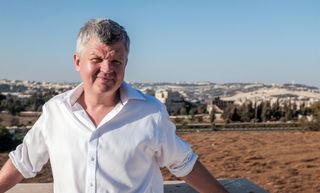 (Image credit: BBC/Storyvault Films/Stuart Strickson)
Adrian Chiles (opens in new tab) is making a return to The One Show (opens in new tab) more than five years after controversially quitting to join ITV in a big money deal.
Adrian's defection to front ITV's football coverage and now-defunct Daybreak show was one of the most explosive transfers in TV history.
But after being sacked by ITV, Adrian will be back on The One Show sofa as a guest.
He will appear on January 6 to promote his new two-part BBC2 documentary on different religions in the Mediterranean.
A BBC source told The Sun: "This is a massive thing for Adrian. He left The One Show in pretty controversial circumstances and at the time relations between him and the BBC weren't great.
"But over the last five years relations have thawed considerably and he has done radio work for them, which was a great way of being eased back in.
"Now he's left ITV, he is being offered new projects and this BBC documentary is a great opportunity. It's fairly intellectual stuff, which he really enjoys doing and he's very excited about it.
"The Beeb are happy to have him back as he is a great presenter. But it will be surreal for him to be back on The One Show sofa, even if it is a one-time thing.
"He had a great time working there and although it ended in a less than favourable way, he still has good memories of the place and the team.
"When he was presenting, the show attracted up to seven million viewers and many people see the BBC as his natural home. It's going to be very strange for him to be interviewed by the new hosts, Alex Jones (opens in new tab) and Matt Baker (opens in new tab)."
In April 2010 it was announced that Adrian had quit the BBC to join ITV in a multi-million pound four-year deal. He was later joined by his One Show co-presenter Christine Bleakley (opens in new tab) on new breakfast show Daybreak.
But within a year of joining, in 2011, the duo were dropped after the show failed to attract the number of viewers ITV had hoped for.
Since then the show struggled to improve and was replaced by Good Morning Britain (opens in new tab).
A year later, despite positive reviews, Adrian's chat programme That Sunday Night Show (opens in new tab) was also dropped.
Last summer he took a £1million salary cut and agreed a £500,000-a-year deal to exclusively present football on ITV until summer 2016, but bosses decided to end it early.
My Mediterranean With Adrian Chiles (opens in new tab) starts on BBC2, Sunday, January 3 2016, 9.00pm.
Thank you for signing up to Whattowatch. You will receive a verification email shortly.
There was a problem. Please refresh the page and try again.