Among the Living (2014) | This French indie horror is as surprising as it is disturbing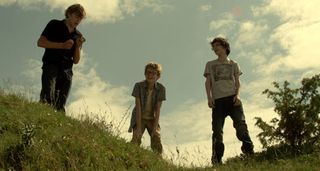 Brooding bad boy Tom (Zacharie Chasseriaud), Nerdy Dan (Damien Ferdel), and troubled outsider Victor (Theo Fernandez) skip detention on the last day of school to explore an abandoned film studio lot on the edge of town. But after witnessing a distraught woman being kidnapped, they alert the police, who refuse to believe their story. But when the boys return to their respective homes, the killer sets out to silence them and their families, one by one…
Critics have called this French indie horror 'Wonderfully disturbing' and 'a blend of 'Tobe Hooper's Texas Chain Saw Massacre and Wes Craven's The Hills Have Eyes imagery, with the likes of ET' and they're certainly on the right track. Without giving too much away, Among the Living (aka Aux yeux des vivants) isn't your standard body count slasher, and is as surprising as it is disturbing, and features standout performances from the three young leads. Cult film fans, meanwhile, will relish Beatrice Dalle (aka Betty Blue) in a wildly OTT (and very graphic) opening cameo. Writer/directors Julien Maury and Alexandre Bustillo are certainly the ones to watch, as they have just finished work on the new Texas Chain Saw prequel, Leatherface.
Among the Living is out on DVD in the UK from 8 March 2016 from Metrodome.
Get the What to Watch Newsletter
The latest updates, reviews and unmissable series to watch and more!