'We love Bake Off just as it is,' says Channel 4 boss Jay Hunt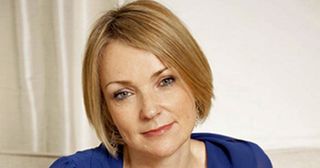 Channel 4's boss Jay Hunt says the Great British Bake Off fans have nothing to fear from the move because it will be the same show made by the same producers
The head of Channel 4 has promised fans of The Great British Bake Off that the programme will have a 'safe home' on the channel.
Jay Hunt (pictured), Channel 4′s chief creative officer, sought to alleviate worries that the hit baking competition will founder when it leaves the BBC without its popular presenters, Sue Perkins and Mel Giedroyc, after the current season.
None of the show's stars were reportedly consulted during Love Productions' negotiations with Channel 4.
Judges Mary Berry and Paul Hollywood, mainstays of the programme since it began in 2010, are yet to confirm if they will follow, although earlier this year Paul said: "It's not my call. I work for Love Productions. I work for the Bake Off. I'm just a judge."
Mary's husband Paul Hunnings suggested the 81-year-old wouldn't take part in the next series.
"She's very happy with the BBC, put it that way," he told the Daily Mail.
Writing in the Daily Telegraph, Jay Hunt said the programme's makers will be the key ingredient in its future success, while the move will keep it on free-to-air television.
"Great British Bake Off will have a safe home," she said.
"The show of soggy bottoms and good crumb will be made by exactly the same team who have always made it.
"We love it just as it is. And for an amateur baker like me, that's a real cause for celebration."
Hunt used the recent move of Formula One from the BBC to Channel 4 as an example of a 'good track record on protecting and growing the shows viewers love'.
The former BBC executive said Channel 4′s intervention had prevented the show being gobbled up by a pay-to-view television service.
"The BBC and Love Productions grew Bake Off from a quaint idea into a global hit. But when they were unable to reach agreement on future series, Bake Off risked coming off free-to-air television altogether.
"By bringing the show to 4, Love Productions have ensured it will be on a terrestrial channel for audiences to enjoy for years to come."
The controversial move was triggered by the BBC's unwillingness to pay the company behind Bake Off, Love Productions, a considerably larger sum to keep the programme.
More than 10 million people tuned in to watch the start of the current series of Bake Off, while 15 million watched as Nadiya Hussain was crowned winner last year.
Hunt said the programme's huge popularity would provide Channel 4 with a financial boost that will help it produce the other esoteric programming it is known for.
News of Bake Off's move prompted a wave of anger from fans and a petition to keep it on the BBC has attracted almost 26,000 signatures.
Get the latest updates, reviews and unmissable series to watch and more!
Thank you for signing up to Whattowatch. You will receive a verification email shortly.
There was a problem. Please refresh the page and try again.