Black Mirror, Gilmore Girls among new line-up announced by Netflix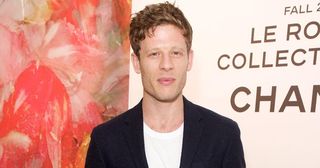 (Image credit: WWD/REX/Shutterstock)
Netflix announce the dates that Black Mirror, Chef's Table, The Ranch, The Gilmore Girls and five more series will be available for viewing.
(opens in new tab)Netflix have announced premieres for nine upcoming new series, the highlight being Charlie Brooker's Black Mirror, starring War and Peace actor James Norton (pictured).
Darkly satirical comedy drama Black Mirror has made the switch to Netflix, after two series on Channel 4. Created and written by Brooker (pictured, below), the six-episode series examines 'our collective unease with the modern world.' Exploring the disturbing way technology has consumed our lives, each episode stands alone, focusing on a new theme.
Black Mirror will premiere globally on October 21. The episode Nosedive stars Bryce Dallas Howard, Alice Eve and James Norton and is directed by Joe Wright, who helmed Atonement and Pride & Prejudice.
The third series of Chef's Table (opens in new tab) series delves into the lives of France's finest chefs, examining their backgrounds and the evolution of their craft. The chefs featuring in the upcoming season are: Alain Passard, Michel Troisgros, Adeline Grattard, and Alexandre Couillon. Chef's Table will premiere on September 2.
A new animated series called Beat Bugs (opens in new tab) will follow the lives of five best friends who live in a suburban backyard and live by the words and music of the Beatles. Beat Bugs will feature covers by artists like P!nk, Regina Spektor, Of Monsters and Men and Sia. Created by Josh Wakely, the first season will premiere on August 3.
Watch the trailer for Beat Bugs:
https://youtu.be/nTgw1nnLqz0
The anthology series Easy (opens in new tab) is set in Chicago and follows the characters as they struggle with all things love, sex, technology and culture. Created by Joe Swanberg, the eight-episode series will feature Orlando Bloom, Dave Franco, Emily Ratajkowski and many more. Easy will premiere globally on Thursday September 22.
Ashton Kutcher will return as ex-football star Colt Bennett in part two of the first season of The Ranch (opens in new tab). The chaos continues on the family ranch as Colt Bennett (Kutcher) and brother Rooster (Danny Masterson) struggle to prove themselves to their father Beau (Sam Elliot). Part two will premiere on October 7.
The romantic comedy Lovesick returns for season two in November. Known as Scrotal Recall when it originally screened on Channel 4, the eight-episode series show will again star Johnny Flynn, Antonia Thomas and Daniel Ings . Lovesick will be available on Netflix from November 17.
Watch a trailer for the first series of Scrotal Recall:
https://youtu.be/fjIB1E8nH7w
Classic naughties series Gilmore Girls (opens in new tab) has been revived by Netflix. Gilmore Girls: A Year in the Life will feature four 90-minute chapters, each set in a different season of the year, while Lauren Graham will return as Lorelai, Alexis Bledel as Rory and Scott Patterson as Luke. It will premiere on November 25.
Watch the teaser for Gilmore Girls: A Year in the Life:
https://youtu.be/rJzxew9K71M
A new docu-series, Captive, is set to air on Netflix. Producers Doug Liman, Simon and Jonathan Chinn have accessed real life hostage cases – delving into the lives of the victims and their families, the negotiators, business leaders, government officials and the people who committed the crime. Captive will premiere globally on December 9.
Another new series airing on Netflix soon is One Day At a Time (opens in new tab), focusing on the lives of a Cuban-American family, a former military mom who struggles to raise her radical teenage daughter and son. The first season of One Day at a Time will have 13 episodes and premiere on January 6.
Shows which will return to second series on Netflix include Chelsea, Lady Dynamite and Real Rob.
Get the What to Watch Newsletter
The latest updates, reviews and unmissable series to watch and more!