10 Years Ago in Soap: Week Beginning 11 March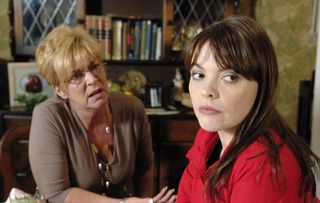 Remind yourself of all the soap drama that was happening in Corrie, EastEnders, Emmerdale and Hollyoaks 10 years ago this week...
Corrie
Tracy Barlow's court case for killing her ex-boyfriend, Charlie Stubbs, in self-defence was looming. Sadly, for 'Terrible' Tracy, her web of lies was uncovered by her mum, Deirdre.
It turned out that Tracy 'Love' was a cold-blooded killer who'd committed murder as part of a revenge scheme. Nice!
Paul Connor faced trouble at the factory when the workforce came out on strike after Sean Tully was fired.
But Paul, who'd hidden a massive crime and a thing for call girl Leanne Battersby from his wife, Carla, had bigger problems.
It seemed Carla had uncovered at least one of those secrets and she wanted an explanation...
EastEnders
There were amazed looks in The Vic when Stacey Slater tried a radical change of image to wow Bradley Branning.
But her grand plan came unstuck when several punters laughed and she fled the pub in tears.
An ashamed Kevin Wicks woke up after spending a night with his estranged ex-wife, Shirley Carter.
Kevin was terrified that Shirley would spill the beans to Denise Fox, but she promised to keep quiet.
Denise, meanwhile, had found the engagement ring that Kevin had planned to give to her and got it stuck on her finger... just as Kevin walked back in.
The two eventually decided they should give marriage a go. What could possibly go wrong? Clue: Shirley's big mouth.
Murder suspects Matthew, Carl and Jimmy King King waited anxiously to find out if they'd be given bail.
They were all accused of murdering their father, Tom, who'd plunged to his death out of a window at Home Farm.
Ever-unlucky Sam Dingle feared he was about to lose his son, Samson, when the child was taken to hospital.
Emily Kirk was on hand to offer support. The good news was that Samson pulled through.
Elsewhere, Billy Hopwood forced Eli Dingle to admit that he stole Edna Birch's pension money.
Edna felt guilty because she'd already told the police it was Billy. Oops...
Tony Hutchinson let his lips do the talking as he wowed his on-off, on-off lover Jacqui McQueen with a passionate kiss.
Matters were far less affectionate for Louise Summers when her ex-husband, Sean Kennedy, arrived in town.
He demanded £10k from Louise... or else!
Thank you for signing up to Whattowatch. You will receive a verification email shortly.
There was a problem. Please refresh the page and try again.