10 Years Ago This Week in the Soaps: June 24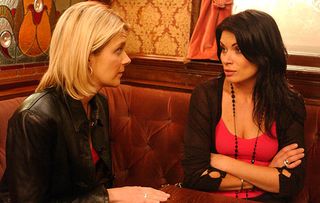 Remind yourself of all the soap drama that was happening in Corrie, Emmerdale, EastEnders and Hollyoaks 10 years ago this week!
Ten years ago this week it was payback time for Carla in Corrie, Val was involved in a messy family dispute in Emmerdale, Stacey dressed up in a very special way to win over Bradley in EastEnders and Craig had a shock announcement for John Paul in Hollyoaks…
Corrie
Leanne Battersby (Jane Danson) was excited 10 years ago this week… She was ready to go into the restaurant business with Carla Connor (Alison King) as they had planned. But Carla changed her mind, unhappy with Leanne's other business as a prostitute and blaming her for her husband Paul's death – even though he had kidnapped Leanne and put her in the boot of the car he crashed.
Leanne wouldn't be defeated, though, and moved on to Plan B… She would take over the restaurant herself and get the money she needed through 'escort' work. Her stepmum Janice was horrified and Leanne went off that idea. So Janice sweet-talked her fella, Roger, into loaning the money.
Sean Tully (Antony Cotton) made a decision that would change his life forever… His close friend Violet Wilson (Jenny Platt) was desperate to have a baby, but had no boyfriend. She told Sean she had seen a doctor about having artificial insemination… But Sean had a better idea: he would be the father of her baby! It seemed like a good idea to both of them – at the time…
Emmerdale
Pearl Ladderbanks (Meg Johnson) and her good friend Edna Birch (Shirley Stelfox) barricaded themselves in at Jacobs Fold cottage after Pearl was handed an eviction notice from Eric Pollard when her husband, Len, died. What Pollard did was legal but it was also heartless… By this time 10 years ago, the women had no electricity and no water supply and Pearl admitted defeat.
Valerie Lambert (as she still was at this time 10 years ago) was trying to give up smoking and her nicotine withdrawal had made her more argumentative than ever. Val (Charlie Hardwick) was constantly rowing with her daughter, Sharon (Victoria Hawkins) but this particular fight turned messy… Sharon confronted Val about ruining her photographic modelling job (by sabotaging her dress) and their row turned into a food fight, right in the middle of Val's son Paul's (Mathew Bose) party to celebrate a fun run! By the end of the week, Sharon was ready to leave the village and wanted Paul to leave with her.
EastEnders
Stacey Slater (Lacey Turner) and Bradley Branning (Charlie Clements) had been dating, but this time 10 years ago this week they had split up and broken-hearted Bradley was sure that they were finished for good. He told Stacey he realised they weren't meant to be and that's when she realised she couldn't bear to lose him. She knew the way to his heart, too… She turned up at his door in Vulcan ears to make Star Trek fan Bradley laugh and her gesture worked a treat.
Phil Mitchell's fiancee Stella Crawford (Sophie Thompson) wasn't laughing at this time, though… Phil (Steve McFadden) had arranged a visit to meet her parents, without telling Stella in advance. This sent Stella into a panic… She wanted to keep Phil away from her parents because she was terrified he would see what bad parents they were and think she would be just as bad. Little did he know she was already tormenting his son Ben!
Hollyoaks
Another week, another torture for Justin Burton (Chris Fountain) at the hands of Warren Fox (Jamie Lomas)… Justin was in hospital, recovering after he was hit by a car as he was leaving Hollyoaks with Warren's sister Katy. His injuries left him defenceless and at Warren's mercy… But Warren wasn't in a merciful mood when he visited Justin. Warren brutally showed Justin what happened to people who betrayed him!
This was a week 10 years ago when the John Paul McQueen/Craig Dean/Sarah Barnes love triangle had a shock development… Seeing Craig (Guy Burnet) with Sarah (Loui Batley), John Paul (James Sutton) told Craig he was a coward and a fake but had accepted that he wanted to be with Sarah. Then Craig stunned John Paul by telling him he loved him and Sarah! And that was enough to get him back in John Paul's arms.
Get the What to Watch Newsletter
The latest updates, reviews and unmissable series to watch and more!