10 Years Ago This Week in the Soaps: July 29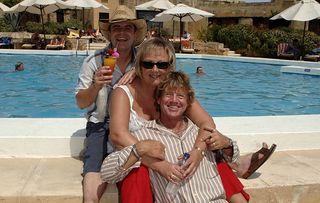 Remind yourself of all the soap drama that was happening in Corrie, Emmerdale, EastEnders and Hollyoaks 10 years ago this week!
Corrie
In 2007, comedy actor Robin Askwith (Carry On Girls, Bless This House, Confessions of a Window Cleaner) landed the first of two roles he's had in Coronation Street, playing holiday rep Aidan (his next role was in 2013). Aidan took a shine to Eileen Grimshaw (Sue Cleaver) when she landed in Malta with Steve McDonald (Simon Gregson).
Fed up with life on the Street, Steve and Eileen had booked themselves a flight to the island – but forgot to book a hotel. They ended up sharing a room and Eileen's new admirer, Aidan, was very happy to learn they were just friends. So was Shania, who took a fancy to Steve. But when Steve whisked Shania to his hotel room while Eileen was otherwise engaged, he discovered Shania was not all she seemed to be. In fact, she was a he (played by Anthony Berry)! And Eileen had known all along!
A week earlier, Ashley Peacock (Steven Arnold) was telling Casey Carswell (Zoe Henry) that he was a one-woman man – and the woman for him was his wife, Claire. Clearly, he changed his mind – and Casey helped him do that. Did they have sex? They did – and in the conservatory! And they nearly got caught by Claire! Ashley was playing with fire…
Mother-in-law from hell Rosemary King was drugging Perdy Hyde-Sinclair (Georgia Slowe), as part of her evil plan to end her marriage to her son, Matthew. It was a disoriented and distressed Perdy that was found outside looking for her missing kitten (yep…Rosemary had made the kitty disappear) by concerned Paul Lambert (Matthew Bose) and Jonny Foster (Richard Grieve). By the end of this week 10 years ago, Rosemary was insisting to Matthew that Perdy would only be safe in a psychiatric hospital!
Chas Dingle (Lucy Pargeter) has always been a lot of woman… Ten years ago she was too much for her latest conquest, Colin McFarlane (Michael Melia), who never woke up after a night of passion with Chas! And she only bedded him to win a bet with Lexi Nicholls over who could have him first! That became a bet Chas wished she had lost…especially after Lexi nicked dead Charlie's wallet and it turned out he was one of the McFarlane crime family and had left behind a very angry wife!
EastEnders
Putting Sean Slater (Rob Kazinsky) in a hairnet and pinny made him no less of a hunk, it just made him miserable. He wasn't dressed like this voluntarily. This was punishment for trying to steal a barrel of ale from the Queen Vic – a money-making scam hatched with Mo Harris (Laila Morse), but only Sean paid the price of getting caught. He had to help out at the Walford jumble sale and Mo was there to rub it in!
Trouble has always followed Billy Mitchell (Perry Fenwick) like a shadow and it loomed this week 10 years ago… Billy was on a warning from pregnant wife Honey about behaving himself, especially with Jase Dyer (Stephen Lord), who had angered Billy by flirting with Honey. But Billy didn't like seeing Jase later flirting with his cousin, Roxy Mitchell, in the pub and took a swing at him – just as Honey walked in.
Albanian immigrant Aleksander Malota (Jon Lolis) had married Jacqui McQueen (Claire Cooper) so he could stay in Britain, but it was his sister-in-law Carmel McQueen (Gemma Merna) that he was really attracted to… And that was very nearly revealed when the immigration service made an unannounced visit to check up on Aleks and Jacqui.
Gilly Roach (Anthony Quinlan) had a lot of explaining to do when he was caught with his hand in Hannah Ashworth's underwear drawer by Hannah (Emma Rigby) and her manipulative friend, Melissa Hurst (Carla Chases).
He was already public enemy No.1 with them for interfering in their lives, but he was only concerned for anorexic Hannah. Still, he now had to explain why he was snooping among her frillies and he had no idea just how twisted these two were becoming.
Get the latest updates, reviews and unmissable series to watch and more!
Thank you for signing up to Whattowatch. You will receive a verification email shortly.
There was a problem. Please refresh the page and try again.