10 Years Ago this Week in the Soaps: August 26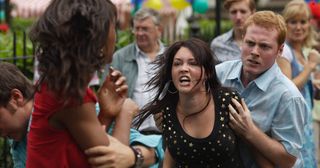 (Image credit: BBC ONE)
Remind yourself of all the soap drama that was happening in Corrie, Emmerdale, EastEnders and Hollyoaks 10 years ago this week!
Stacey Slater (Lacey Turner) was furious with Chelsea Fox (Tiana Benjamin) when she framed her big brother, Sean (Rob Kazinsky), for attacking Patrick Truman in EastEnders. And while Sean languished in prison, the two women got into a catfight in the Square, with Bradley Branning (Charlie Clements) desperately trying to break them up. Brave man!
Behind bars, Sean asked Stacey to get hold of an MP3 player for him and Stacey agreed. He obviously planned to use it to win his freedom, hell-bent on getting revenge on Chelsea and Deano Wicks (Matt Di Angelo) for setting him up. Later in the week Deano was viciously attacked and it became clear that Sean was behind it. He and Chelsea had made dangerous enemies.
Roxy Mitchell (Rita Simons) was trying to get shot of her fiance, Damian, and came up with the bright idea of claiming to have fallen in love with Ian Beale. Ian? Really? He didn't know what had hit him when Roxy pulled him in for a passionate kiss, but the plan seemed to work.
Coronation Street
Hayley Cropper (Julie Hesmondhalgh) was sad when she heard her Aunt Monica had died, and as she read some letters her aunt had left, a secret from her past returned to haunt her. Hayley ripped the letters to shreds and threw them away, but later blurted out her secret to Becky Granger (Katherine Kelly, that years ago, as Harold, she had fathered a son! And she was terrified if the secret came out it would destroy her life with Roy Cropper.
…
Casey (Zoe Henry) was furious when Ashley Peacock (Steven Arnold) told her sleeping with her was a mistake, he didn't love her and she was to stay away from his family. As he left, you could see by the look on her face that this wasn't over, whatever Ashley hoped. Hell hath no fury like that woman scorned…
Ashley's wife Claire (Julia Haworth) confronted him and asked if he had slept with Casey. Ashley lied and said nothing had gone on between them – then kept his fingers firmly crossed!
There was high drama when Laurel Thomas (Charlotte Bellamy) went into labour while she was accidentally locked in the church. Happily she was rescued and rushed to hospital where she gave birth to a baby boy and she and daddy Ashley Thomas (John Middleton) were thrilled with their new arrival. Meanwhile, Laurel's friend Melanie gave birth at the same time and both little boys were taken to the neonatal unit for checks - paving the way for the heart-breaking switched babies storyline to come further down the line…
Lexi Nicolls (Sally Oliver), Debbie Dingle (Charley Webb) and Chas Dingle (Lucy Pargeter) congratulated each other on a successful heist after stealing an expensive necklace at an exclusive jewellery sale at Home Farm. Rodney Blackstock was sure the women were behind the snatch, but couldn't prove it.
Kelly Windsor (Adele Silva) was all set to marry Jimmy King, but was feeling guilty because she 'd had an abortion behind his back… so guilty she got drunk and kissed Eli Dingle (Joe Gilgun). As their lips met, a camera flashed from the shadows. Eli agreed to keep their liaison a secret, but who had spotted them getting up close and personal?
Jacqui McQueen (Claire Cooper) went into self-destruct mode as she struggled with the devastating pain of losing her baby. She made little effort to cover her tracks as she nicked stuff from Drive 'N' Buy and soon got herself arrested. After spending a night in a cell, Jacqui was ashamed. Boyfriend Tony Hutchinson (Nick Pickard) told her he loved her and they should try to move on... but could they?
Get the latest updates, reviews and unmissable series to watch and more!
Thank you for signing up to Whattowatch. You will receive a verification email shortly.
There was a problem. Please refresh the page and try again.