10 Years Ago This Week in the Soaps: 7 January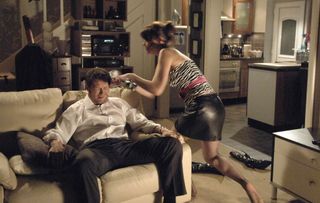 Remind yourself of all the soap drama that was happening in Corrie, EastEnders, Emmerdale and Hollyoaks 10 years ago this week.
Corrie
Tracy's Barlow's revenge on Charlie Stubbs for cheating on her reached a dramatic climax when she slammed him over the head with a lamp base, then set about re-arranging the scene to make it look like self-defence.
Tracy was horrified to see Charlie on a stretcher with an oxygen mask. He wasn't quite dead. Yet… But Tracy was later arrested for murder and taken away by the police, her upset mum Deirdre trying to support her.
As Sarah Platt watched Jason Grimshaw bonding with baby Holly, she told him she'd like them to get back together and try to be a family of four with Bethany. Jason was delighted.
EastEnders
Sonia Fowler was arrested on suspicion of murdering Pauline Fowler and Phil Mitchell hired his brief Ritchie Scott to fight Sonia's corner. With Martin Fowler clearly believing the worst of Sonia, she needed all the help she could get.
Sean Slater very nearly caught his little sister Stacey in flagrante with Max Branning when he came home early while they were kissing passionately upstairs. The only evidence Sean found was Max's tie… but he was nobody's fool.
Dawn Swann was caught on the back foot when she went round to talk to ex-lover Rob Minter about their expected baby, to be met by his wife May all dolled up for an evening out. Dawn was desperate to believe Rob still wanted her, but it was the baby he and May were interested in.
Greedy vet Hari Prasad spun a web of lies in order to get more money out of Edna Birch for fixing a hurt Tootise. Louise Appleton was shocked when Edna told her that a 'caring' Hari had been up all night with the dog, when she knew very well that he spent the night with her.
Kelly Windsor planned to fleece Jimmy King out of £30,000 and he managed to get hold of a load of cash for her by raiding the Home Farm business safe. But when he realised the con they had a huge row and she threw the money back at him, revealing that she loved him.
The police – DCI Grace Barraclough and DS Vikesh Desari – had more suspects than they knew what to do with for Tom King's murder. Chas Dingle was one of the people they had down the police station for a grilling…
Craig Dean realised he'd made a fatal error in dumping Sarah Barnes and turned to Nancy Hayton for advice, admitting he missed Sarah. Nancy obviously explained the way to a woman's heart… and Craig made a heartfelt apology to Sarah, showering her with thoughtful gifts.
Warren Fox wanted something important from Calvin Valentine and blackmailed Justin Burton into getting it for him. Next day saw Calvin trashing the house, looking for his police warrant card while Warren was very pleased with the lengths Justin had gone for him…
Kris Fisher and Jessica Harris's tangled relationship took a new turn when, on a night out at The Loft, he told Jessica not to wait up… and pulled a bloke.
Thank you for signing up to Whattowatch. You will receive a verification email shortly.
There was a problem. Please refresh the page and try again.