12 of the spookiest TV shows ever
Our pick of the scariest TV shows that can chill you to the bone...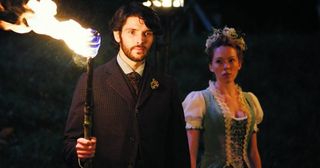 (Image credit: BBC)
If you're looking for horrible scares and shocks on TV, we take a look back at the 12 spookiest shows on TV that tingled our spines and given us sleepless nights!
1 THE LIVING AND THE DEAD
Victorian psychologist Nathan Appleby (Colin Morgan) and his wife Charlotte (Charlotte Spencer, both pictured above) found themselves in the midst of all kinds of spooky goings on in the countryside that had a very spine-chilling twist at the end…Without a doubt one of the spookiest shows on TV!
2 THE ENFIELD HAUNTINGS
Timothy Spall played kindly paranormal investigator Maurice Grosse who witnessed objects flying about and heard weird voices from beyond the grave in this scary tale based on a real-life story of a poltergeist that terrorised a family in north London in the 70s.
3 AFTERLIFE
Lesley Sharp played a medium, Alison Mundy, who could communicate with the dead. She got chummy with sceptic Dr Robert Bridge (The Walking Dead star Andrew Lincoln) whose young son had died. Haunted by her gift and the suicide of her mother, she helped Robert comes to terms with his son's death and in turn he helped her accept her past and special powers.
4 THE SECRET OF CRICKLEY HALL
Eve Caleigh (Suranne Jones) and her husband Gabe (ex-EastEnder Tom Ellis) escaped to the country to get over their young son's disappearance. But they suffered at the hands of the ghost of evil Augustus Cribben (Douglas Henshall) after moving into a former orphange that was a scene of mass murder…
5 SEA OF SOULS
Supernatural shenanigans in Scotland were closely monitored by Dr Douglas Monaghan (Bill Paterson), head of a parapsychology unit at a university in Glasgow, and his team. They encountered hauntings, reincarnation, spooky voodoo and strange dreams that seemed to spill over into real life.
6 WHISTLE AND I'LL COME TO YOU
John Hurt played a lonely man, James Parkin, who found a ring on the beach while on a break at the seaside. He took it back to his hotel, but it raised up all kinds of supernatural terror. It was one of the spookiest shows on TV at Christmas in 2010. Who can forget the scratchy fingers under the door? It was enough to scare James to death and he was found stiff as board in bed after a haunted night!
7 APPARITIONS
As a man of the cloth Catholic priest Father Jacob Myers (Martin Shaw) experienced all kinds of strange phenomena as he investigated miracles and demonic possessions and performed exorcisms. Determined to rout out evil, he was joined by a nun, Sister Ruth (Siobhan Finneran) in his quest.
8 MARCHLANDS
For generations different families moving into a house by a lake were scared out of their wits by the ghost of a little girl haunting her former home after she drowned in a nearby lake. When the ghost's handprint appeared suddenly from inside the washing machine as Helen (Doctor Who star Alex Kingston) put her smalls on a hot cycle, she and viewers jumped out of their skin!
9 REMEMBER ME
Tom Parfitt (Michael Palin) was left a broken man by the domineering and dangerous ghost of his former nanny, who wanted him all to herself! After setting up home in his attic, the spook followed him to a care home as he tried to escape from the spirit, and then also to Scarborough — dispatching of anyone who got in her way!
10 CROOKED HOUSE
A recently demolished Tudor Manor holds ghostly secrets that unravel across different eras, each cursing a different generation. With a strange door knocker mustering up the spookiest occurrences, odd noises, a ghostly bride wandering the corridors, dark secrets cast a shadow over the modern day as Ben (Lee Ingleby) is touched by evil…
11 TRACTATE MIDDOTH
A trip to the library was never the same after this scary show about a supernatural cobwebbed being who becomes embroiled in a battle over an inheritance to an estate. Mr Garrett (Sacha Dhawan), an employee at the library, is drawn into the search for the will, which has deadly consequences for some…
12 THE X FILES
Where do we start? At the height of its popularity it was considered to be the spookiest of spooky shows. So many spooky goings on, strange phenomena and supernatural events (not to mention a healthy smattering of aliens) that X Files FBI agents Mulder (David Duchovny) and Scully (Gillian Anderson) were kept busy investigating for years – and they're still going. But the truth is out there… Apparently.
Get the What to Watch Newsletter
The latest updates, reviews and unmissable series to watch and more!