Box Set Binge: The Expanse, StartUp and The Moonstone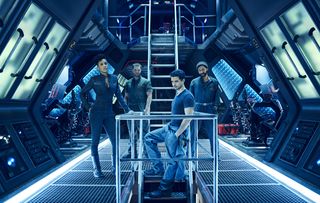 (Image credit: Jason Bell/Syfy)
Stuck for something to watch this weekend? Sit back and enjoy streaming stand-outs The Expanse (Netflix), StartUp (Amazon Video) and The Moonstone (BBC iPlayer)
Have a peek at these top shows available on streaming services Netflix, Amazon Video and BBC iPlayer...
Centuries from now, humanity has colonised the solar system. But the colonies may be torn apart by a dark conspiracy that spans the universe in 10-part sci-fi drama The Expanse, available now on Netflix…
https://www.youtube.com/watch?v=M0QwBp_da28
It's the 23rd Century and mankind has reached out into the solar system, colonising Mars and the Asteroid Belt. Life, for many, is tough – resources are limited and interplanetary tensions run high.
When a young woman disappears, the lives of three people are interwoven in a way that none of them could have expected. Police detective Josephus Miller (Thomas Jane), ship officer Jim Holden (Steven Strait) and United Nations executive Chrisjen Avasarala (Shohreh Aghdashloo) may be about to unravel a cosmic conspiracy that will shatter the peace between Earth, Mars and the Belt and threaten the very survival of humanity…
A brilliant tech idea falls into dubious hands in unflinching crime drama StartUp. Made by US streaming service Crackle, the entire 10-part series is available now on Amazon Video.
https://www.youtube.com/watch?v=B54bMd3-GpU
Set in Miami, StartUp charts the development of a new digital currency, GenCoin, by three strangers all set on one thing… making some serious money. The unlikely trio of 'tech entrepreneurs' who come together in the hope of hitting it big are financier Nick Talman (Adam Brody), Haitian gangster Ronald (Edi Gathegi) and hacker Izzy Morales (Otmara Marrero)
There's a notable bump in their road to riches, however - shady FBI agent Phil Rask (Martin Freeman). Rask may have the trio and their cryptocurrency enterprise on his radar, but it's clear he operates on both sides of the law.
Who'll end up cashing in with GenCoin?
All five episodes of this BBC1 daytime drama, set in 19th-century Yorkshire, are available now on BBC iPlayer. Based on the novel by Wilkie Collins, it charts an adventurer's bid to find a stolen diamond before his true love is lost to him forever.
For her 18th birthday, Rachel Verinder (Terenia Edwards) is gifted a stunning diamond – the famous Indian Moonstone. The next morning, she wakes to find her valuable present has been stolen. A year passes, and neither the diamond nor the thief have been found – so adventurer Franklin Blake (Joshua Silver), who loves Rachel, makes it his mission to recover the prized jewel. Franklin turns to Sergeant Cuff (John Thomson) for help.
Numerous suspects have a motive for stealing the diamond – but who masterminded the theft? Where's the diamond now? Can Franklin, with Sergeant Cuff, track it down and win Rachel's heart?
Get the What to Watch Newsletter
The latest updates, reviews and unmissable series to watch and more!