Five out-of-this-world Doctor Who guest star transformations!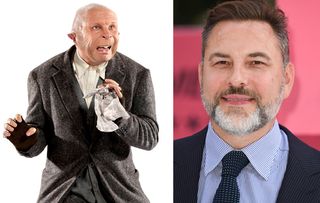 Five Doctor Who guest stars who got an out-of-this-world transformation…
As the latest series of Doctor Who comes to an end (until the Christmas episode that is), here's a look at five big-name guest stars who underwent a big transformation to appear on the long-running sci-fi…
Peter Kay (opens in new tab) The comedian appeared opposite David Tennant's 10th Doctor as a large green lizard Abzorbaloff in the 2006 episode Love & Monsters. The creature, which was designed by a nine-year old who won a competition, absorbed other living beings into his body simply by touch.
David Walliams (opens in new tab) David played Gibbis, in the 2011 adventure The God Complex, which starred Matt Smith as the 11th Doctor. Hailing from the green planet of Tivoli, Gibbis was a coward and was terrified of the episode's main villain, The Minotaur.
Ardal O'Hanlon (opens in new tab) The Irish comedian starred as Thomas Kincade Brannigan, a talking cat who lived in New york with his human wife in Valerie, in the 2007 episode Gridlock. He bumped into 10th doctor David Tennant when he saw him struggling for air on New Earth and let him into his flying car.
Sarah Parish (opens in new tab) The Broadchurch star played the Empress of the Racnoss in the 2006 Christmas Special, The Runaway Bride. She met David Tennant's 10th doctor, in a secret location under the Thames Flood Barrier, where she was trying to awaken her long-dead race who were hibernating within the Earth's core.
Mark Gatiss (opens in new tab) The actor and writer has appeared in Doctor Who several times, but one of his most memorable roles came in the 2011 episode The Wedding of River Song, in which he played Gantok, a humanoid creature who worked for villainous race, The Silence.
Get the What to Watch Newsletter
The latest updates, reviews and unmissable series to watch and more!