How not to date... The seven most awkward moments on First Dates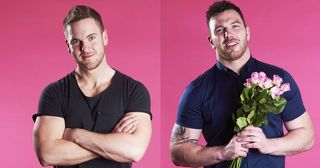 As a new series of First Dates begins this week, we look back at some of the cheesy chat-up lines, inappropriate one-liners and moments of downright rudeness on the hit Channel 4 dating show.
Going on a blind date is pretty nerve-wracking, and hats off to anyone who's brave enough to give it a go. In fact, with more than 80,000 people applying to dine at the First Dates London restaurant, it seems the desire to find love far outweighs the anxiety of having to spend an evening with a complete stranger.
Here are our seven most cringe-inducing moments of Channel 4's dating series so far.
1. Elle and Mark
"On a first date I like a man to be a gentleman and pay the bill," revealed Marilyn Monroe lookalike Elle. And she really wasn't joking. Dad of three and fireman Mark was left shocked when Elle refused to pay her share – even though she'd insisted on ordering copious amount of alcohol throughout the evening.
Elle said: "Oh you need to pay the bill... Of course I'm giving it to you. I never pay the bill on dates. Why would I?" But, perhaps realising she was being a little rude, she gave Mark £30 towards the £137 bill. To which a surprised Mark pointed out: "You haven't gone anywhere near halves!"
Elle wasn't put out though, even after Mark called her "high maintenance." The high-maintenance blonde suggested they meet up as friends. Mark was less than keen on the idea.
2. Heather and Paddy
Sassy Heather was gobsmacked on her date with Paddy when she revealed she was a vegetarian and didn't like fish… Paddy then thought it was appropriate to reveal personal details about his ex…
"I was seeing this girl who was quite domineering. She was quite scary…," said Paddy. "I won't go into anymore details because it's quite personal."
Heather was relieved, but Paddy changed his mind and continued: "But it stank. And you don't like fish…"
Heather didn't see Paddy again.
3. Jo and Gus
When Jo and Gus had their first date, it all seemed to be going so well. In fact, to most viewers it appeared the couple were getting on like a house on fire.
Things weren't to be for smitten Jo, however, when she walked out of the post-date interview in tears. And who can blame her after Gus said: "I would have loved to have walked in there and gone 'wow' and then had the date we had, because the date we actually had was excellent."
Ouch Gus. Was there really any need?
4. Adela and Louis
This was the first time shy Louis braved the First Dates restaurant. Viewers warmed to the socially awkward linguist who struggled to make conversation and dropped a series of clangers during his date to Adela, including asking her: "What are you political views?"
Poor Louis then admitted he'd had a terrible time on a night out: "I fell asleep on the train once and woke up in Manchester," after Adela revealed that was where she's from...
5. Paddy and Keegan
Gay rugby star Keegan Hirst, who last year became the first professional rugby player to publicly come out as gay while still competing in the sport, was paired up with fitness instructor Paddy.
Paddy wasted no time in making it clear that he found Keegan attractive when, during dinner, he made several attempts at flirting: "Do you have any Irish in you?" he asked.
"Do you want some?!" Paddy blurted out, giggling at his own joke.
Paddy spent most of the time talking about his social media following – even showing Keegan his profile pictures and admitting he tweeted during sex. Keegan wasn't impressed...
6. Corinne and Rajan
Rajan is no stranger to the First Dates restaurant, having dined there on several occasions. Corinne was his latest date and, hoping for success on his fourth attempt, Rajan began the conversation with a chat-up line: "Santa Claus has come late this year..."
"Pardon?" asked Corinne.
"Well, giving you to me this Christmas...," continued Rajan.
"You are joking?" an unimpressed Corinne asked. Rajan wasn't deterred, even boasting he can last three hours in the bedroom!
Check out Corinne's reaction above... There was no need for a cheese platter for afters.
7. Emma and Jeremy
Businessman Jeremy, didn't feel like he could switch off on his date with Emma. Throughout their meal, the silver-haired city worker kept looking at his mobile phone, and while that's pretty bad manners in itself, he didn't even try to hide it.
It gets worse...
Later, after saying: "Emma is a lovely woman. Beautiful. Intelligent. Charismatic. I had a great time," he insisted that Emma went first in revealing whether she'd like to see him again.
A "definitely" from Emma was met with an awkward pause before Jeremy replied: "I'm personally not so sure. I don't want to waste Emma's time if I'm honest."
While Emma made a speedy getaway, Jeremy went back to work... as you do.
First Dates returns to Channel 4 on Tuesday, August 9
Get the latest updates, reviews and unmissable series to watch and more!
Thank you for signing up to Whattowatch. You will receive a verification email shortly.
There was a problem. Please refresh the page and try again.