Box Set Binge: Lucifer, Bloodline and Humans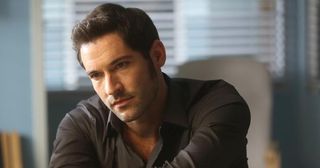 (Image credit: Everett/REX/Shutterstock)
Stuck for something to watch this weekend? Sit back and enjoy streaming stand-outs Lucifer (Amazon Video), Bloodline (Netflix) and Humans (All 4)
Have a peek at these top shows which are all now available on streaming services Amazon Video, Netflix and All 4...
Lucifer (Amazon Video) (opens in new tab)
Miranda star Tom Ellis has a devilishly good time as the title character of fantasy crime-drama Lucifer. Series 1 of the DC Comics spin-off is available on Amazon Video now, with series 2 set to follow on 20 September…
https://www.youtube.com/watch?v=RrCeh_GiC4k
Bored and unhappy as the Lord of Hell, Lucifer Morningstar has abdicated his fiery throne and taken ownership of a nightclub in Los Angeles. A simple look from Tom Ellis' Lucifer is all it takes to make someone confess all their sins - a supernatural ability he puts to use early on in the first episode to bribe a police officer out of giving him a speeding ticket.
When a burnt-out celebrity acquaintance is gunned down in front of him, Lucifer decides to take matters into his own hands and trace the killer. As he does so, he crosses paths with LAPD detective Chloe Decker (Lauren German) - and as the series progresses, the pair form an unlikely crime-fighting duo. Is Lucifer revelling in this newfound way of punishing the wicked or is there hope for his soul?
Bloodline (Netflix) (opens in new tab)
A sense of foreboding is established right from the off in Netflix drama series Bloodline - the opening credits features a tranquil, sunny view out to sea swiftly giving way to a thunderous night-time storm with heavy, swirling clouds. Something unsettling is looming over an idyllic resort in the sun-drenched Florida Keys and one family is about to be rocked to its foundations.
Catch the entire first series of Bloodline on Netflix now…
https://www.youtube.com/watch?v=tRnS8FkcXNk
Bloodline opens with the solemn voice of John Rayburn (Kyle Chandler), a detective and deputy sheriff in the Monroe County Sheriff's Department: "The voice in your head is telling you that something is going to go terribly wrong and there's nothing you can do to stop it. That's how I felt when my brother came home."
That brother is Danny Rayburn (Ben Mendelsohn), who returns to Monroe County for an anniversary celebration - his parents have run an idyllic beachside inn for 45 years and are set to have a pier dedicated to them to mark the occasion.
Danny is the black sheep of the family, who has a troubled past and a fractured relationship with his siblings John, Kevin (Norbert Leo Butz) and Meg (Linda Cardellini). His mum, Sally (Sissy Spacek), may be pleased to see him, but his dad, Robert (Sam Shepard), is more distanced.
What has caused these dividing lines to open up in the Rayburn clan? Will Danny's return and decision to stay in the area lead to the unearthing of the family's deepest and darkest secrets? Shocking revelations, and dead bodies, have a tendency to float to the surface in this slow-burn drama
When Joe Hawkins buys a 'Synth' – a must-have domestic robot for the modern family – he has little idea of the intrigue and danger it will thrust upon him and those he loves. Catch the entire first series of the hit C4 sci-fi drama on the channel's catch-up service, All 4, now...
https://www.youtube.com/watch?v=HU4mwlTUXnc
Joe's wife Laura (Katherine Parkinson) is a busy lawyer often away on business, leaving her husband to manage the house and look after their three young kids. Tired of the void his wife's frequent absences have created at home, Joe (Tom Goodman-Hill) makes an impulse purchase: a human-like Synth robot that his daughter names Anita (played by Gemma Chan).
When Synth-wary Laura returns home, she's thrown to find her husband has brought Anita into their family. At first, nothing seems out of the ordinary about the Hawkins' Synth, but some suspicions soon start to creep in – Anita seems different to other Synths: more perceptive, more intuitive, more human-like. Are the Hawkins in danger? What's the story behind the robot?
Get the latest updates, reviews and unmissable series to watch and more!
Thank you for signing up to Whattowatch. You will receive a verification email shortly.
There was a problem. Please refresh the page and try again.