Break Point curse? Netflix docuseries subjects pull out of Australia Open
Is there a Netflix curse for these up and coming tennis stars?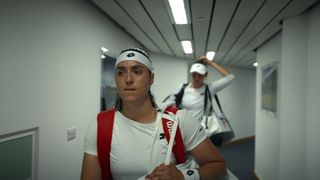 (Image credit: Netflix)
When four stars from the new Netflix tennis docuseries Break Point end up injured prior to the Australian Open, fans can't help but wonder if it's more than a coincidence. Perhaps it's a curse. Perhaps it's the "Netflix curse."
As of Tuesday, Nick Kyrgios, Ajla Tomlajanovi, Paula Badosa and Carlos Alcaraz have been forced to exit the first Grand Slam of the season due to injury, days after the series premiere of Break Point on January 13. (For what it's worth, January 13 was also Friday the 13th…)
Tennis.com (opens in new tab) reported that Badosa suffered an abductor injury in her victory against Beatriz Haddad Maia at the Adelaide International 2 on Thursday, while Tomljanovic has a knee injury that continues to plague her. Spaniard Alcaraz is dealing with a right leg injury (opens in new tab) that resulted from a training session prior to leaving for Australia.
Kyrgios had been getting a lot of attention prior to the Australian Open, which was to be his season debut in front of his home country. The often controversial young star suffered a knee injury on Monday that will require arthroscopic surgery (opens in new tab). Thankfully, trainers believe he'll be back in action in time for a hard-court tournament in Indian Wells, Calif., in March.
The timing of Kygios' injury stings even more because he is the focus of Break Point's first episode. The Canberra native played in an exhibition match against Novak Djokovic on Friday and experienced significant discomfort in his knee. An exam revealed the presence of a small cyst and tear to his lateral meniscus.
Netflix curse is real https://t.co/VBY4cSPaPA pic.twitter.com/qEuKMGn4PGJanuary 17, 2023
Matteo Berrettini, Taylor Fritz, Maria Sakkari, Ons Jabeur, Casper Ruud and Félix Auger-Aliassime are still in the competition, and a Netflix team is on-site at the tournament following the remaining players around.
Andy Murray commented about the presence of film crews (opens in new tab) ahead of his Tuesday match with Berrettini. "I don't know how easy it is for people to be themselves," Murray said. "Maybe some people don't have a problem with it, but for me personally if you stick 10 cameras around me, I don't feel like I'm going to be completely natural in that situation."
In addition to injuries, the Australian Open has also been plagued by heat and rain, forcing schedule changes to accommodate wet courts and excessive heat. But that's not to say there haven't been bright moments at the event; on Monday there was a record-breaking turnout of close to 78,000 fans hoping to catch the action between the daytime and night sessions.
Break Point is set to follow in the footsteps of the popular Netflix series Drive to Survive, which followed F1 drivers and their teams in a bid to introduce the sport to new audiences. With so many tennis stars leaving the sport in the past few years and in the coming years, the series is searching for the next big star while also bringing new fans to the sport.
Netflix also has a number of other sports documentaries set to come out in 2023, including Full Swing, which follows big name golf professionals during the 2022 PGA Tour season, a docuseries on the 2022 World Cup and one on the Invictus Games, produced by Prince Harry and Meghan Markle.
Get the latest updates, reviews and unmissable series to watch and more!
Editorial Content Producer
Sarabeth joined the Watch to Watch team in May 2022. An avid TV and movie fan, her perennial favorites are The Walking Dead, American Horror Story, true crime documentaries on Netflix and anything from Passionflix. You've Got Mail, Ocean's Eleven and Signs are movies that she can watch all day long.
When she's not working, Sarabeth hosts a podcast dedicated to books and interviews with authors and actors. She's also very close to realizing her lifelong dream of publishing a novel.
Thank you for signing up to Whattowatch. You will receive a verification email shortly.
There was a problem. Please refresh the page and try again.