Casualty exclusive! Jacey Salles: 'Rosa's interested in David's bumbag!'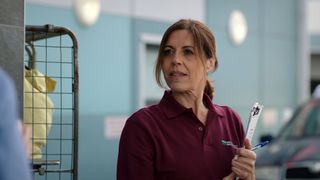 (Image credit: BBC)
Cold Feet favourite Jacey Salles reveals her new Casualty character, Rosa, will cause a stir in Holby's ED!
It's a time-honoured tradition that when a new character makes their debut in Casualty, their first day on the wards is a baptism of fire.
But when Cold Feet star Jacey Salles (opens in new tab) arrives as new hospital porter Rosa Cadenas this week, she turns this custom on its head and instead it's timid nurse David Hide (Jason Durr (opens in new tab)) who ends up having a challenging shift!
TV Times booked an appointment for an exclusive interview with the fun and fabulous Jacey, 53, to find out how the sparks are set to fly…
How would you describe Rosa?
JS: "She's Venezuelan and an outspoken and confident person. On her first day she does things she's not supposed to like interrupting medical procedures, telling parents they aren't doing a very good job and generally sticking her oar in. She ruffles quite a few feathers – David's in particular!"
We hear she approaches clinical lead Connie Beauchamp – a big no-no!
JS: "Yes, she has no regard for hierarchy! David tries to stop Rosa, but she needs to speak to Mrs Beauchamp, so she says hello and introduces herself. Rosa's that kind of character. She finds the British reserve equally amusing and frustrating. Rosa thinks if there's a job to be done, let's not sit on formalities."
Connie has other things on her mind when Rosa introduces herself! (opens in new tab)
How does David react to Rosa's behaviour?
JS: "He's confused! He tries to remind Rosa that her job is to literally ferry people from here to there. He reels off her self-proclaimed expertise, from car mechanic to child psychologist, and sarcastically wonders if there's any end to her unsolicited talents. She really frustrates him!"
What does Rosa make of David?
JS: "When Rosa hears David on the phone talking about his car and being bumbling, she finds him attractive in an amusing way. She realises he takes very little winding up. But when he gets over wound up she stops and lets him know she's only joking. David finds himself reacting to Rosa in spite of himself and wishing he hadn't. It's very funny – Jason's timing is impeccable."
Are you enjoying working closely with Jason?
JS: "Yes, Jason is brilliant, I love him. His character is so well honed and he's a joy to work opposite. The Casualty producers are very open to you taking ownership of your character and having some input, like adding something a bit funny. Jason and I do that a lot. We add little movements or things that aren't scripted, but reveal a little more about our characters."
David's a much loved-character and has been battling mental health issues. Should viewers be worried about Rosa's impact on him?
JS: "No, don't worry, Rosa will look after David. In time he finds himself drawn to her honesty because Rosa is practical and cuts to the chase, she grounds him, and sometimes he needs that. He's in good hands with her. She wouldn't do anything to harm him – in fact, just the opposite. She's a force for good!"
Does this mean you'll be on the series for a while?
JS: "I'm under contact until October. So I'm sure there will be a discussion about whether to continue exploring Rosa's character or not. She might end up suffering an awful fate – who knows?! Casualty's a pleasure to work on, and so exciting to be a part of."
More on Casualty favourite David Hide here (opens in new tab)
How does Rosa compare to zealous Spanish nanny Ramona Ramirez, your character in ITV comedy drama Cold Feet?
JS: "Rosa is Ramona's opposite. She feels more mature. Ramona can be a bit dippy! Also Ramona needs people around her but Rosa's more solitary, like a cat. We're going to slowly reveal her past and why she came to Britain. She's had a life, lets say…"
It's recently been announced that Cold Feet will return for a ninth series. Will you be back as Ramona?
JS: [Laughs] "I risk being beheaded if I say, so I'll plead the fifth on that! For now I'm really enjoying portraying Rosa and hope people like her. It's funny we've David and Ramona in Cold Feet and now David and Rosa in Casualty. I've been saying 'David' in a Spanish accent for about 30 years!"
Are people surprised by your English accent off screen?
JS: "Yes, a lot of people think I'm a Spanish actress living in England and expect a big Spanish [Jacey seamlessly slips into character] 'Hello darling, how are you?' I was born in London. My mum's English and my Dad's Spanish. When I was one we moved to Ibiza and my parents had bars and clubs out there. We came back to London when I was 12, so I grew up in both places. My family think it's hilarious when I play Spanish. But I'm so grateful we moved out there. It definitely helps with the intonation and rhythm, and makes it more believable."
What other Casualty storylines are you enjoying at the moment?
JS: "I don't want to single one out because they're all great, aren't they? Charlie and Duffy Fairhead's story is so tragic. Jacob Masters' story with his mother Omo recently made me think about my own mother. I also find Gabriella Leon's nurse Jade Lovall really interesting, and I'm waiting on Genesis Lynea's doctor Archie Hudson to blow her stack!"
Is there anything you'd especially like to see Rosa get up to?
JS: "When you go to work in the morning there can be leg stumps or arm stumps just randomly sitting on table props or the make-up room. I'm always a bit jealous when I'm walking past people in the corridor on set and they've had some kind of accident. I'd really like something to happen to Rosa where she has a latex arm stump or a scar or something, so that I get to play dress up!"
Finally, before we go, we have to ask, will Rosa discover what's in David's mysterious multi-coloured bumbag?!
JS: "Rosa's definitely interested in his bumbag. Jason finds it hilarious. He's shown me, but I can't tell anyone!"
Jacey makes her Casualty debut as Rosa this Saturday at 8.25pm on BBC1
Writer for TV Times, What's On TV, TV & Satellite Week and What To Watch
With twenty years of experience as an entertainment journalist, Elaine writes for What's on TV, TV Times, TV & Satellite Week and (opens in new tab)www.whattowatch.com (opens in new tab) covering a variety of programs from gardening and wildlife to documentaries and drama.
As well as active involvement in the WTW family's social media accounts, she has been known to get chatty on the red carpet and wander into the odd podcast.
After a day of previewing TV, writing about TV and interviewing TV stars, Elaine likes nothing than to relax… by watching TV.
Get the latest updates, reviews and unmissable series to watch and more!
Thank you for signing up to Whattowatch. You will receive a verification email shortly.
There was a problem. Please refresh the page and try again.