Casualty's Charles Venn: 'Steph gets revenge on Connie in the worst way!'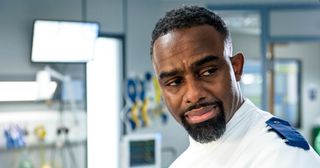 (Image credit: BBC)
Casualty star Charles Venn reveals this could be the end of the road for Connie and Grace who are victims of Steph Sim's revenge road rage...
It's an action packed episode of Casualty this week! What's on TV chatted to Casualty's Charles Venn, who plays spirited nurse Jacob Masters. The former EastEnders star reveals it's a simmering and essential final episode that will leave Casualty fans wanting more…
Jacob and Connie (Amanda Mealing) have been hiding their romance from Grace. How does Connie's daughter discover their affair? "It's the classic stumbling across the truth! Connie and Jacob are enjoying an affectionate moment at Connie's when Grace unexpectedly returns from a sleepover and catches them red-handed. There's no getting around it!"
How does Grace react? "The look on her face says it all – she's not happy! Jacob tries to comfort her and lets her know he has her mother's best interests at heart. Understandably Grace (Emily Carey) has been Connie's priority and Jacob's taken a backseat, but enough is enough! These are two passionate people who are in love and have had to go against their natural feelings to appease the emotions of someone else."
It's been tough for them, especially working together… "Working in the same environment and sharing the same space has led to fireworks. When they were finally alone in the What Lies Beneath episode, this proved to be the case… Fortunately for Jacob and Connie, but unfortunately for Grace!"
Can you explain the unexpected twist when Grace's best friend Carmel is brought into the ED? "It's a shocking psychological child abuse story. Carmel has kept quiet, as is often the case with vulnerable abused children. She blames herself and is defensive when anyone speaks ill of her mum, Steph (Tonicha Lawrence, better known as Linda Fowler in Emmerdale). It's harrowing and tragic. Credit to Casualty for tackling a deep and pertinent issue."
How involved are Grace, Connie and Jacob? "As ED clinical lead Connie mainly deals with the situation. Jacob earns Grace's trust and respect when he helps her speak candidly about Carmel to her mother, Connie. Jacob also aids and supports Connie, helping her to realise this is a genuine abuse case. Connie learns a lot from this."
A very challenging storyline for everyone, especially Sydney Wade who plays Carmel Sims… "Sydney Wade is an amazing actress. I'm sure viewers will be wowed by her. We were dumbfounded on set. She displayed a level of experience you don't expect from a young star. The silence was palpable when she delivered her performance in the ED. It was something special and she's someone to look out for!"
How does abusive Steph react when social services turn up to investigate malnourished Carmel's case? "Emotions are high. Once it's beyond doubt Carmel is being abused by Steph things escalate! Steph and Connie's relationship has always been frosty and Steph doesn't take too kindly to being told by Connie social services have been called in. There's a horrible twist because of that…"
We're left with a series finale cliffhanger car crash. Can you reveal more? "Outside the ED Steph wants to attack Connie as she's leaving in her car with Grace! Jacob tries to calm her down but what he doesn't see is seething Steph getting into her car and pursuing Connie and Grace in a blind rage. Steph wants revenge and unfortunately she gets it in the worst way… It's all leading up to the special 30th Anniversary in August! It's going to be a wonderful celebration of Casualty and nurse Charlie (Derek Thompson) as they mark their 30th year. We're very excited!"
This week's charged episode is on Saturday, July 30, BBC1 at 9.25pm. Casualty's epic 30th anniversary episode will screen on August 27
Get the latest updates, reviews and unmissable series to watch and more!
Thank you for signing up to Whattowatch. You will receive a verification email shortly.
There was a problem. Please refresh the page and try again.