Chesney dumps pregnant Gemma Winter, reveals Coronation Street stars Dolly-Rose Campbell and Sam Aston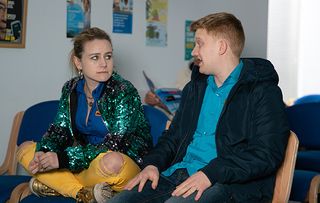 Gemma will find out she's pregnant next week in Coronation Street, but there's many complications ahead including a none the wiser Chesney ditching her...
Spring is the season for new beginnings, and we've certainly got that in Coronation Street, where next week loudmouth Gemma finds out she's expecting Chesney's child.
But in true soap tradition, this is a complicated pregnancy from the off, coinciding with an oblivious Chesney's decision to call time on their relationship.
TV Times caught up with Coronation Street stars Dolly-Rose Campbell and Sam Aston to hear all about their characters' impending visit from the stork…
'Chemma' started off so well, but things have quickly gone wrong for them. How come?
Dolly: "The initial excitement of being together has worn off, and they're getting on each other's nerves as the reality of living together sinks in. They have very different personalities. He's responsible, whereas she's impulsive. When Chesney was just a friend, Gemma saw the best of him, but now she's seeing the domesticated side." Sam: "Everything was all right when they were friends, mucking about and having a laugh. But with a relationship, there's Chesney's son, Joseph, to think about. Chesney's quite serious and wants to be a responsible father, and Gemma can be a bit too fiery for him at times. It started with her being untidy, cutting her toenails and not picking them up, and licking plates clean, but things have got worse and now they're butting heads a lot."
So how does Gemma feel when she discovers she's pregnant?
Dolly: "It's a mix of excitement, fear and panic. Chesney has already made her feel that she's not very responsible with Joseph, so now that she's pregnant, she hasn't got much confidence that she would be able to raise a baby."
And Chesney dumps her!
Sam: "To be fair, Gemma knows it's not working, too. They have been driving each other mad and both been thinking, 'Let's put this behind us.' So it's not a nasty, harsh break-up, and it's not all down to him."
Why does Gemma choose not to tell Chesney about her pregnancy?
Dolly: "She doesn't want Chesney to want them to be together just for the sake of the baby; she wants him to want her. And she's got a real bee in her bonnet, thinking that he doesn't think she'd be a good mum."
How do you think Chesney will react when he finds out?
Sam: "He'll be completely shocked, because they've only been together for five minutes. Plus, he thinks she's on the pill. But he's very responsible and he'll be like, 'Right, come on, let's make a go of it.' He came from a very broken family, so he'd never want that for his kids."
Would you like Gemma and Chesney to reunite and bring the baby up together?
Dolly: "I don't know, because it's been quite an unhappy environment while they have been living together, so that maybe wouldn't be the best thing for the baby." Sam: "Oh yes, definitely! It's a classic chalk-and-cheese scenario, but I think they can make it work with a bit of give and take. Gemma needs to be a little more responsible and put Joseph first, and maybe Chesney needs to lighten up a bit. Sometimes he goes a bit too far, doesn't he? He's a bit beige!"
What kind of mum do you think Gemma will make?
Dolly: "She has a lot of love to give, but it's hard being a mum, and we'll only find out when the baby arrives. I certainly think she will give it a bonkers name and dress it in wacky clothes! The important thing for me is that she doesn't change. And just because she might not do some things the way that other people would do them, it doesn't mean she's doing it wrong."
Do you think Gemma and Chesney will clash as parents?
Dolly: "Only time will tell…" Sam: "I'm sure they will! Gemma will be the one giving it chocolate and snacks and whatever it wants. But I think that balance would be good for a kid, and also there'd be a lot of scope for comedy."
Coronation Street continues on ITV.
Alison Slade has over 20 years of experience as a TV journalist and has spent the vast majority of that time as Soap Editor of TV Times magazine.
She is passionate about the ability of soaps to change the world by presenting important, issue-based stories about real people in a relatable way.
There are few soap actors that she hasn't interviewed over the years, and her expertise in the genre means she has been called upon as a judge numerous times for The British Soap Awards and the BAFTA TV Awards.
When she is not writing about soaps, watching soaps, or interviewing people who are in soaps, she loves going to the theatre, taking a long walk or pottering about at home, obsessing over Farrow and Ball paint.
Get the latest updates, reviews and unmissable series to watch and more!
Thank you for signing up to Whattowatch. You will receive a verification email shortly.
There was a problem. Please refresh the page and try again.