Coronation Street fans left mystified by hilarious comment made by Tim Metcalfe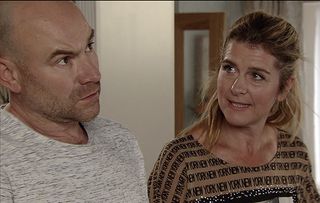 You can always count on Coronation Street to make us laugh and cry in equal measure, and last night's trip to the cobbles was certainly no different.
Coronation Street fans were left in hysterics after Tim Metcalfe made such a bizarre comment to sister-in-law Gina Seddon that we're not even sure where it came from.
Wednesday night's episodes saw Gina reluctantly making the decision that she was going to leave Sally and Tim's house after its was revealed Sally wanted to make her bedroom into a yoga room when she got out of prison.
But as Gina was packing her bag, Tim's mind was more on his dinner as he announced: "I could eat a nun's bum though a convent gate... my dad used to say that!" Um, okay then!
As a clearly ravenous Tim put a stop to Gina's departure and instead ordered her to the kitchen to dish up his curry, Coronation Street fans took to Twitter to share the cabbie's strange - but clearly hilarious - comment...
As Corrie fans recovered from Tim's comical moment, there was more drama to come in the Metcalfe household as Tim's dad Geoff dropped the bombshell that he thought Gina was falling for Tim.
Tim was quick to dismiss the fact that there was anything going on between him and his sister-in-law, but Geoff pointed out that while Tim might think they're just mates, it was clear the lines were becoming blurred for Gina.
Earlier Geoff witnessed Gina lie to Sally as the pair spoke on the phone. Sally was clearly calling from prison to talk to her husband, but Gina lied that Tim was out on a job, when really she knew he was just upstairs.
This white lie prompted Geoff to warn his son what was going on, but now that the seed has been planted, will Tim cool things with Gina? Or is being in prison going to end up being the least of Sally worries?
Coronation Street airs on Mondays, Wednesdays and Fridays at 7.30pm and 8.30pm on ITV.
Get the latest updates, reviews and unmissable series to watch and more!
Thank you for signing up to Whattowatch. You will receive a verification email shortly.
There was a problem. Please refresh the page and try again.