Coronation Street spoilers: Geoff Metcalfe warns Tim about Gina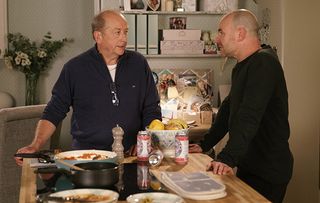 Geoff Metcalfe takes Tim to one side, warning him that Gina has got feelings for him.
Gina assures Fiz that Tim's just a good mate. Fiz discusses this with Geoff Metcalfe ((Ian Bartholomew), giving him food for thought.
Tim visits Sally, telling her he overhead that Paula has proof that Duncan bought the burner phones. Elated, Sally starts making plans for when she gets out, including turning Gina's room into a yoga room. When Faye unwittingly lets slip about the yoga room to a hurt Gina, Tim assures her they need her more now than ever and she's going nowhere.
As Geoff watches Gina flirt with Tim, he takes Tim to one side, warning him that Gina has got feelings for him.
When Carla reveals she's off to Nottingham to check out his restaurant, Nick talks her out of it, promising to tell all. He says he did a mate a favour and for tax reasons, agreed to become joint partner with his mate's wife, Elsa. Nick calls Elsa, lying that his Mum is ill and he has to stay.
Circuit Judge Leonard joins Paula, Julian and Sophie in Speed Daal. As the "in jokes" fly Sophie's sidelined and when Leonard pushes his glass towards her, expecting her to fill it, Sophie loses her rag. Paula points out she's just insulted the Judge who could preside over Sally's trial and Sophie's heart sinks.
When Tyrone states their living arrangements aren't working, a worried Evelyn tells Tyrone how grateful she is but realises she's outstayed her welcome. His conscience pricked, will Tyrone relent?
Rana promises Imran she'll speak to Kate. But is she just fobbing him off?
Get the latest updates, reviews and unmissable series to watch and more!
Thank you for signing up to Whattowatch. You will receive a verification email shortly.
There was a problem. Please refresh the page and try again.